« This sucks. | Main | Terrified »
September 28, 2004
For Kids?!?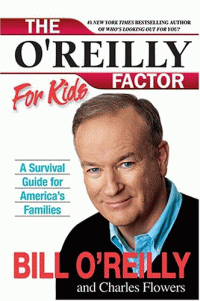 This is wrong on so many levels.
Posted by Ensie at September 28, 2004 07:00 PM
Comments
I thought it was a joke cover at first. I like the Mr. Roger's sweater touch myself.
I think he probably beckons children into the sewers where, dressed as a bloodthristy clown, he swallows them whole.
Posted by: Eden at September 29, 2004 08:30 AM
Bill O'Reilly was a well regarded children's advocate before he became a FoxNews pundit. He sorta still is, I guess.
Posted by: Richard at September 29, 2004 09:26 AM
Post a comment
Thanks for signing in, . Now you can comment. (sign out)
(If you haven't left a comment here before, you may need to be approved by the site owner before your comment will appear. Until then, it won't appear on the entry. Thanks for waiting.)