« The Eye Now Falls Upon Jon Stewart | Main | Dooce is a lucky woman »
October 22, 2004
The Handmaid's Tale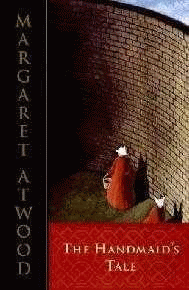 Inspired by the banned book list I posted last month, I picked out a few books I wanted to read. This was the first from the list, and it was incredible. Overtones of 1984, from a woman's perspective. I've continued to think about this story days after finishing it.
Think I'll have to pick up the Blind Assassin next. Or maybe The Edible Woman...
Posted by Ensie at October 22, 2004 06:15 PM
Comments
VERY good choice, I loved it too : )
Posted by: Jennifer at October 22, 2004 06:41 PM
I just loaned this to my sister's fiance tonight. He wants to see how it compares to 1984.
Posted by: ensie at October 22, 2004 08:34 PM
Yay! I love Margaret Atwood, (not just cause I'm a Canuck, either). Read the books you listed and definitely pick up her new one, Oryx and Crake. It's very similar in theme to Handmaid's Tale but from a man's POV.
The Diviners, by Margaret Laurence (another Canuck) is also a great "banned" book.
Posted by: Gir at October 22, 2004 10:04 PM
I love that book!! I may have a copy laying around somewhere if you cant find it.
Love and Light
Robyn
Posted by: Robyn at October 23, 2004 08:38 AM
Yay! I love that book, and I adore Margaret Atwood. I really, really liked the Blind Assassin, haven't read The Edible Woman yet.
Posted by: Erin at October 25, 2004 07:26 AM
Post a comment
Thanks for signing in, . Now you can comment. (sign out)
(If you haven't left a comment here before, you may need to be approved by the site owner before your comment will appear. Until then, it won't appear on the entry. Thanks for waiting.)