« The best gift I never got | Main | Lost It »
December 07, 2004
The fanciest shoes I've ever seen a business man wear
Today I was loading some boxes in my truck at the front of Bob's Hogs and Weiner Pigs. As I placed one box onto the tailgate I heard the sound of a shoe slipping on the concrete. I wouldn't usually pay attention to the people walking by, but looked directly at the businessman 10 feet away because of the noise his shoes made.
He was your average, nondescript businessman, dressed in your normal, everyday grey suit with a tie. He had a briefcase and a cup of coffee, and appeared to be in a hurry to get to his car. One of his shoes had slid off the edge of the concrete, forcing him to pause to fiddle with it.
Then I saw the actual shoes: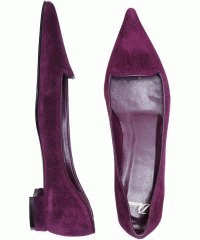 Women's purple suede flats with an extra pointy toe. I watched him as he walked away from me. He seemed comfortable in them, and I've got no problem with men wearing women's shoes. It just seemed so randomly odd to wear them with a professional looking suit.
I felt like I had glimpsed a quirky part of this man's life. No one else noticed his fancy shoes.
Posted by Ensie at December 7, 2004 07:35 PM
Comments
Posted by: Dawn (webmiztris) at December 8, 2004 09:17 AM
This would make an excellent short story. ;)
Posted by: Eden at December 17, 2004 09:52 PM
Wow-I used to borrow some of my sister's flat shoes and sandals and wear them with jeans. I got a few stares from people, some compliments too. Can't imagine being bold enough to wear purple flats!
Chris
Posted by: Chris at May 10, 2005 02:44 PM
Posted by: free download at April 19, 2010 02:56 AM
Post a comment
Thanks for signing in, . Now you can comment. (sign out)
(If you haven't left a comment here before, you may need to be approved by the site owner before your comment will appear. Until then, it won't appear on the entry. Thanks for waiting.)