« Happy New Year! | Main | Guess what hurts? »
January 01, 2005
If The Jeffery had thumbs...
...he would rule the world. Truly. Even without them he manages to open doors and steal the leftover chicken wings we had buried in the trash can. After his parents removed the life-threatening chicken bones from his throat he decided to sulk: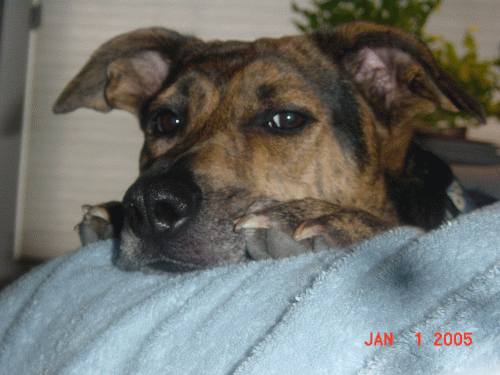 Shortly after the above photo was taken The Jeffery was overheard stating, "If I had thumbs I would have been able to grab those sharp, stabby chicken bones back from you!"
Update: As I posted the above, The Jeffery delightedly opened the trash can in the master bathroom and spread tissues gleefully througout the house, all while screaming, "Wheeee!"
Posted by Ensie at January 1, 2005 04:34 PM
Comments
AWWWWWWWWWWWW! He is THE cutest. I have such dog envy. What kind is he?
Posted by: curly mcdimple at January 2, 2005 10:32 AM
The Jeffery is equal parts Pit Bull (the only part we know for sure), Devil Dog, Tijuana Rat Hound, and who knows what else. We adopted him from a rescue group that operates out of Mexico. They said he would be 35 lbs. We passed that up two and half years and 40 lbs. ago. Glad you like him. With the new digital camera you should be seeing a lot more pictures of him.
Posted by: ensie at January 2, 2005 02:08 PM
Posted by: free download at April 19, 2010 03:00 AM
Post a comment
Thanks for signing in, . Now you can comment. (sign out)
(If you haven't left a comment here before, you may need to be approved by the site owner before your comment will appear. Until then, it won't appear on the entry. Thanks for waiting.)