Ā« The Best Thing About the Time Change | Main | The CA State Tax Board Sucks Ā»
April 05, 2005
Chicken
I've mentioned Chicken before, but never really wrote much about him. He's a parrot that my parents discovered in their backyard 6 years ago. They bribed him with snacks and dropped him off at my work to become my new pet.
Things started off well with Chicken. He was one of only a couple of other pets; my gay kitty, Merlin, and a three-legged turtle named Tripod that I had inherited from a college acquaintance. The turtle was silent, Merlin was pissy, and Chicken was loud. Everyone had his role mapped out. Things continued to go smoothly with the addition of another cat, Moby, my childhood Cockatiel, Gilbert, and Frinklin's dog, Matchbox. Everyone was still getting along, and we were one (now very) big family.
Enter: The Jeffery.
Chicken and Jeffery had trouble from the start. Aside from the barking/screaming contests, Jeffery decided upon meeting Chicken that he would make great McNuggets. No amount of training was going to make him give up his dream of Chicken Dinner. This meant that Chicken spent more and more time in his cage, which really pissed him off.
Parrots are extremely smart animals. Some can have vocabularies as large as 1000 words or more and they need a lot of attention and stimulation to keep from becoming bored. Studies show that they have brain function similar to a four-year-old child. Imagine leaving your four-year-old locked in a cage 23 hours a day with a couple of toys and a mirror for company. I felt awful keeping Chicken behind bars, but with the Jeffery plotting his assassination, I had limited options.
One year ago, I placed an ad in the local paper:
Amazon parrot, friendly, male, good pet, not for kids $300. Must observe new home before purchase
I received several responses to the ad, and set up a meeting with one gentleman who was very interested. He showed up with a cardboard box, glanced at the bird through his cage, and started counting out twenty-dollar bills on the table.
ā€œIā€™ll take ā€˜em.ā€
ā€œUm,ā€ I stalled, ā€œWhat will you be doing with him?ā€
ā€œBreeding.ā€
ā€œAh, but Iā€™m not 100% sure heā€™s a boy. And heā€™s not proven. Would he just be in a cage all the time?ā€
ā€œYeah. With other birds.ā€
I didnā€™t have a good feeling about this and couldnā€™t just let this man walk away with him, ā€œI though I made it clear in the ad that I want him to be a pet, as he is used to human company. I would need to see where he would be living before I agree to the sale.ā€
My insistence that I see Chickenā€™s new digs was the twist in the deal the ā€œbreederā€ wouldnā€™t agree too. I thanked him for his time and sent him on his way. I didnā€™t want to know what this skeezy guy really wanted my bird for, or what kind of possibly awful conditions he would be living in. Scratch that plan.
Chicken stayed home and The Jeffery and he continued to argue over who had top billing in our household.
Another year passed, and I watched Chicken become more and more sullen in his cage. We brought him out to play and socialize occasionally, but didnā€™t have the time to entertain him properly. I finally decided to call up the local bird store, Bird Crazy, and ask about placing him for sale on consignment there.
At the start of March we took him to the store and he was an immediate hit. He put on a great show for the staff, surprising us by offering up his funny and friendly personality. They priced him and put him out with the other birds for sale. Frinklin and I stopped by to see him a couple of days later to make sure he was happy. He seemed more cheerful and bright-eyed than ever.
We went back today; one month from the date we dropped Chicken off, expecting to pick him up, as we hadnā€™t been notified that heā€™d sold. However, it turns out an oversight had been made, and we hadnā€™t been notified when he sold just a day after we had stopped in to check up on him. They cut me a check on the spot and thanked me for my business.
Now heā€™s truly not mine anymore, and I find myself wondering who bought Chicken. I hope the staff at Bird Crazy told his new owner(s?) that he likes french fries and chips more than anything. That he can ring exactly like the phone (prompting Frinklin or I to call, ā€œThe Chicken is for you, honey!ā€). If you put him on the floor heā€™ll chase you around the house like a bowlegged troll, hopping and waddling after you until he can climb up your pants to your shoulder, where he will cluck in your ear, just like the Chicken that he is.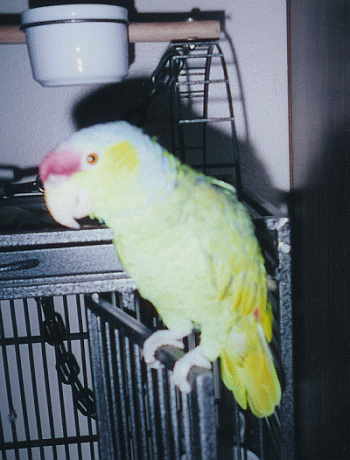 Posted by Ensie at April 5, 2005 10:19 PM
Comments
Chicken was a mexican red head. I had one once. He was the best bird I ever owned. He was the sun shine of my day. Thanks for your story and picture. It sound like you miss your friend as much as I do. Thanks again
Posted by: Russ at September 9, 2005 01:02 PM
Post a comment
Thanks for signing in, . Now you can comment. (sign out)
(If you haven't left a comment here before, you may need to be approved by the site owner before your comment will appear. Until then, it won't appear on the entry. Thanks for waiting.)