« Easily Amused | Main | Dear Right-Wing Conspiracy Freaks, »
August 24, 2004
Brushes with Randomness -- Sports Edition!
A little over a week ago, Richard at Pearly Gates decided to make fun of my sport of choice, Dressage. To the untrained eye, I suppose it can look like competative horse walking. However, it is actually closer to ballet on horseback.
Seriously.
The horse and rider move in together in perfect balance, performing varying levels of specified maneuvers within a rectangular ring. My Dad compares watching Dressage to watching grass grow. "It takes a sophisticated eye!" I've been known to reply. Dressage is performed as part of Three Day Eventing and Dressage-only Olympic competition.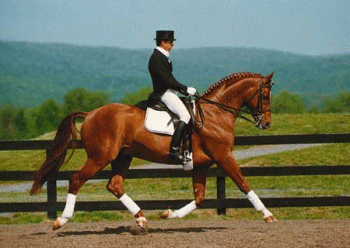 Well, now the laugh is on him. His favorite Anaheim Angel, Troy Glaus, is married to a woman named Ann, who I grew up riding with; riding dressage with, to be exact. Until recently, she still taught my sister on the weekends.
Posted by Ensie at August 24, 2004 06:45 PM
Comments
Thanks for defending the sport we love. Katie
Posted by: Katie at August 25, 2004 01:43 PM
I'm sure it has more right to be in the Olympics than volleyball, but I'm not sure the horsing around is as fun to watch.
Posted by: David Weisman at August 25, 2004 06:49 PM
Again, a sophisticated eye!
Posted by: ensie at August 25, 2004 10:08 PM
Post a comment
Thanks for signing in, . Now you can comment. (sign out)
(If you haven't left a comment here before, you may need to be approved by the site owner before your comment will appear. Until then, it won't appear on the entry. Thanks for waiting.)