« Thank you | Main | A concensus on Jude Law »
November 12, 2004
The Blower's Daughter
The song that has been stuck in my head constantly and playing on my iTunes incessently.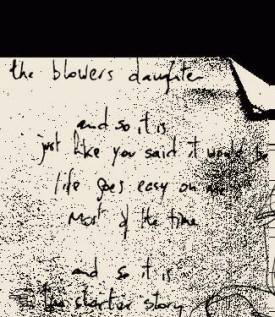 This Damien Rice song was playing at the end of the last episode of "The L Word" and is the first song in the trailer for the movie "Closer" (which guarantees to be the most pretentious movie ever, and I can't wait).
Posted by Ensie at November 12, 2004 05:48 PM
Comments
It might just be the best thing about the movie because I can't remember (since Jeff Buckley god rest his soul) the last time a song cut so hard into my soul...I can't take my mind of you...
Posted by: Erwin Heiser at May 26, 2005 07:06 PM
ok this song is great........i can't stop listening to it.......I love Jeff Buckley too. ok, but can someone tell me what a blower's daughter is?
thanks crystal
Posted by: Crystal Krutzkamp at June 2, 2005 10:41 PM
Apparently, a "blower" is one who uses a telephone in Britian. Maybe the father works for the phone company.
Posted by: resipsa at August 21, 2005 12:41 AM
I think that the "Blower's Daughter" is quite literal and refers to a glass blower's daughter. I think that it is perfect for the movie "Closer" because Jane Jones is just a stripper. It's one profession that many people still look down upon, much like a glass blower's daughter in ages past.
She doesn't know why she is loved, she has nothing, she needs nothing, but she knows how to love and she will give that fully and when she is loved she believes she is loved fully and truly. She is blinded to what her calling is whether it is a life time of blowing glass or blowing her life naked for a slew of hungry lusting men.
Posted by: Matt at September 25, 2005 05:52 PM
Post a comment
Thanks for signing in, . Now you can comment. (sign out)
(If you haven't left a comment here before, you may need to be approved by the site owner before your comment will appear. Until then, it won't appear on the entry. Thanks for waiting.)