« The Blower's Daughter | Main | Next time I'll just rent it »
November 12, 2004
A concensus on Jude Law
With apologies to Zach Braff, my boyfriend. Oh, um, and my husband, Frinklin.
While we may not agree on Brad Pitt (see this for the first addressing of this issue, and here for my feelings on Brad's personal hygiene), Katie and I do agree that Jude Law may represent the most perfect specimen of manhood in the remake of the movie Alfie.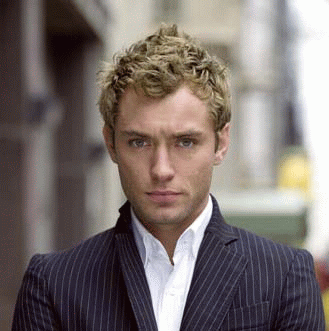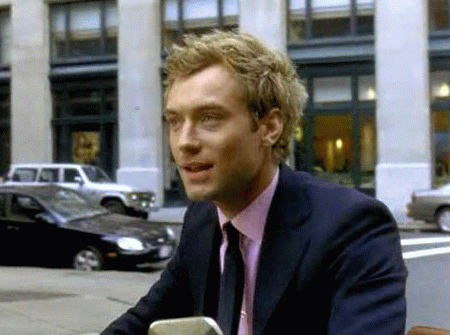 Oh my God. I'm such a twelve year old girl.
Posted by Ensie at November 12, 2004 06:09 PM
Comments
Really? I don't see it- he's so gaunt and effeminate. I do agree with you on Brad Pitt though. He's a little too... I don't know... Fabio.
Posted by: Richard at November 13, 2004 02:01 PM
You are so right on Brad Pitt. Maybe it's the way he beefed up so much for Troy, but I've always thought that he's skeezy. As I've established, I LIKE that look (Orlando Bloom? Plus there's the effeminate thing--have I mentioned I was a lesbian?), but there are definate exceptions--Frinklin doesn't look anything like that. But then there's also Katie, my sister, who thinks Brad Pitt is great, but also loves her 6'2" and very slim fiance. Go figure.
Posted by: ensie at November 13, 2004 07:13 PM
Jude is very handsome, but I'm more Brad Pitt myself. There's just something about him that I'm wildly attracted to. I think the fact that he IS a little more 'dirty' is what I like. I'm already tired of these metrosexuals!!! They're too girly for me!! But still damn nice to look at... ;-)
Posted by: Dawn (webmiztris) at November 14, 2004 09:18 AM
i'm a guy.. but i personally found the greatest one to be capt. jack sparrow.
and i think i should stop sounding gay on some-one else's blog.
and i see no reason to act that way on my own either.
*sigh - shooting my mouth off again*
cheerz
SEV
http://satish-ev.blogspot.com
Posted by: SEV at November 22, 2004 06:16 AM
Post a comment
Thanks for signing in, . Now you can comment. (sign out)
(If you haven't left a comment here before, you may need to be approved by the site owner before your comment will appear. Until then, it won't appear on the entry. Thanks for waiting.)