« Coincidence? | Main | Time Suckage is an Art »
November 18, 2004
How good am I?
Just a few short days after my post about Jude Law being the sexiest man right now, People magazine goes and copies me! More proof that I am always right.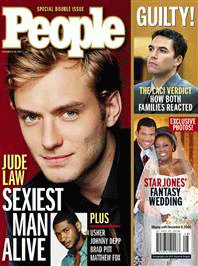 Ah. Pretty, pretty Jude Law.
Posted by Ensie at November 18, 2004 06:57 PM
Comments
He is purdy.... ;-)
But it should be illegal to post Scott Peterson's photograph anywhere near Jude's. I hate that guy.
Posted by: Dawn (webmiztris) at November 19, 2004 08:39 AM
Jude Law is ok , not really my type. Is his movie good
Posted by: LaShaundra at November 19, 2004 12:34 PM
Posted by: Chana at November 22, 2004 07:02 AM
Dawn--I have an irrational hatred of Scott Peterson also. Or maybe it's just creepy assholes who kill their wives. That must be it!
Posted by: ensie at November 24, 2004 08:52 PM
LaShaundra--Yes, I thought Alfie was good. If that was the movie you were referring to. Although he has also appeared in (or will be appearing in) the following this year:
Sky Captain: World of Tomorro
Closer
A Series of Unfortunate Events (voice of Lemony Snicket)
The Aviator

Posted by: ensie at November 24, 2004 08:56 PM
Posted by: free download at April 19, 2010 02:52 AM
Post a comment
Thanks for signing in, . Now you can comment. (sign out)
(If you haven't left a comment here before, you may need to be approved by the site owner before your comment will appear. Until then, it won't appear on the entry. Thanks for waiting.)