« Another Rerun?!? | Main | Thank you! »
January 19, 2005
Santa Ana Weather
As taken as I was with the mountains near Seattle, it's days like the last couple that take my breath away. I live one hour from the ocean, and this is the view 5 minutes from my house:
All photos were taken from my car on the 5 MPH drive into work this morning. That darker blue strip in the back below the sky? That's the ocean. Although you can't make it out in the pictures, there's actually an island off the coast that you could also see quite clearly. It's amazing what's under all that pollution.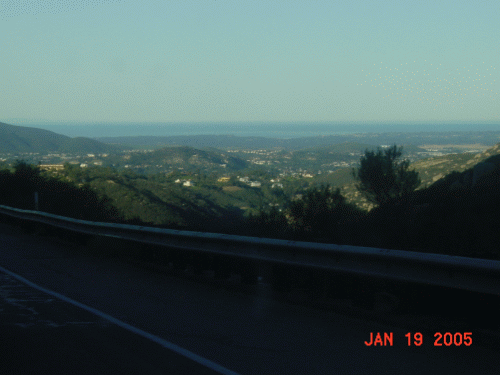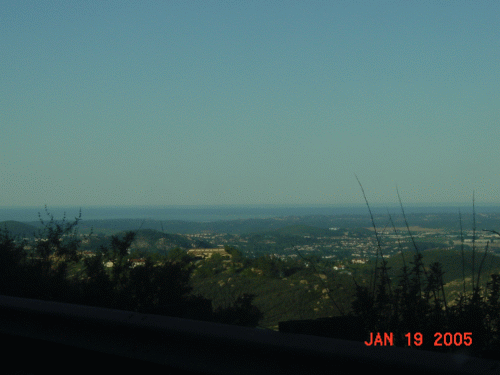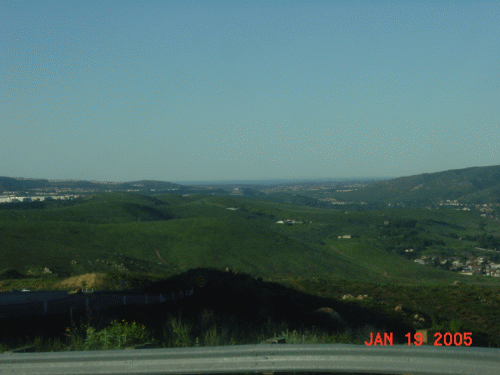 Posted by Ensie at January 19, 2005 09:55 PM
Comments
Yesterday I discovered for the first time that I can see downtown Lake Forest (or what passes for downtown) from my balcony. I've lived in this house for five years. All the rain is starting to grow on me...
Posted by: Richard at January 20, 2005 12:27 AM
Posted by: Violet at January 20, 2005 07:50 AM
Weird what you can see when it all clears out.
Posted by: ensie at January 20, 2005 05:38 PM
Posted by: free download at April 19, 2010 03:03 AM
Post a comment
Thanks for signing in, . Now you can comment. (sign out)
(If you haven't left a comment here before, you may need to be approved by the site owner before your comment will appear. Until then, it won't appear on the entry. Thanks for waiting.)