« In an alternate take they tried Old Maid | Main | The Rule of Cat »
March 06, 2005
The Grown Up Desk (or, I love tax refunds)
This weekend we have been largely computer-free as we were transforming our crappy office space into a workable desk and filing system. About a year ago we upgraded our computer and bought a fancy new LCD monitor (thank you, tax refund from 2003). Because it was such a fancy monitor it ate up the entire office revamp budget, and we lacked the resources to purchase anything new for the monitor to actually sit on. For one year, I worked at the following desk: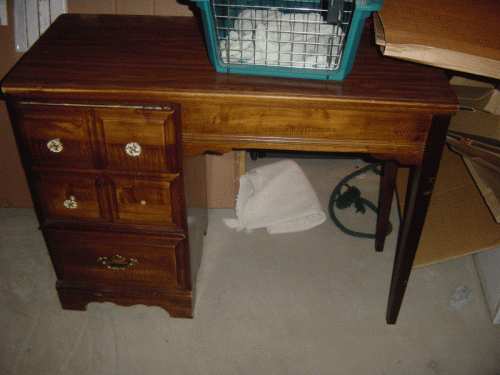 That desk has since been relocated to the garage, with our three unworkable/unuseable (yes, three) other desks, all waiting for the garage sale we keep planning but never actually seem to have.
This year, we decided to purchase some new office furniture to work at, as the old desk was really built for a 12 year old. Enter IKEA.
Frinklin moved the old furniture and worked on cleaning up the office space.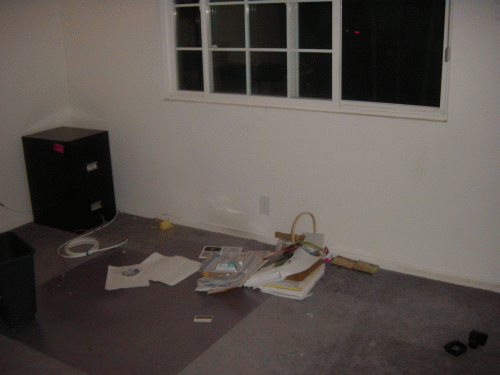 And freaked out the cat so that he hid in the cupboard.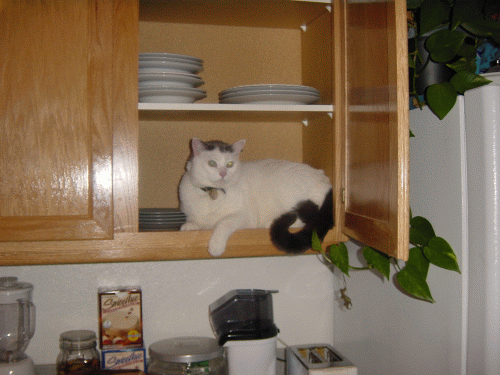 My sister stayed for 6 hours, helping to put things together (while The Jeffery destroyed the old cardboard boxes).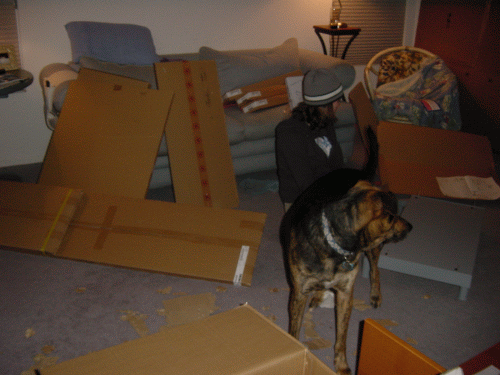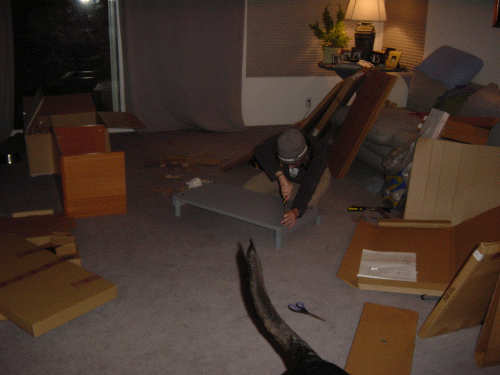 The cat decided to check on our progress.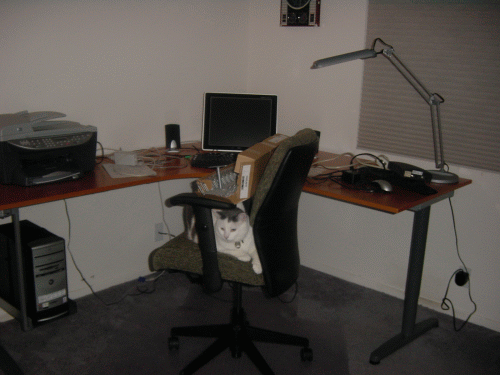 And finally, two days later and two trips to Fry's for extension cables and three different Staples for the right speakers, we finished: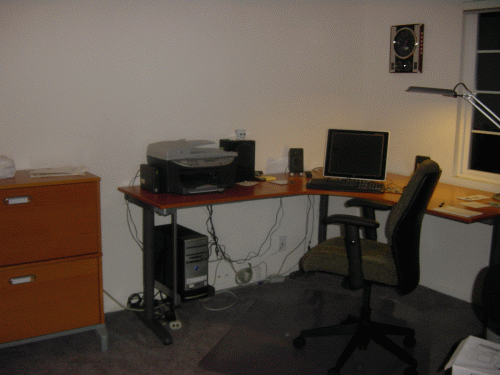 OK, it's mostly finished. The cords are horrible, but the "cord management" system that we purchased came with the wrong screws, so they're waiting to be reorganized. And the monitor extension cable is causing shadows on the facy monitor, so we may need to move the CPU and ditch the extension cable. I have reached total exhaustion. All that can wait until tomorrow.
Posted by Ensie at March 6, 2005 09:48 PM
Comments
I love the cat in the cupboard. It's like a nursery rhyme.
Posted by: Eden at March 10, 2005 07:26 PM
Posted by: free download at April 19, 2010 03:13 AM
Post a comment
Thanks for signing in, . Now you can comment. (sign out)
(If you haven't left a comment here before, you may need to be approved by the site owner before your comment will appear. Until then, it won't appear on the entry. Thanks for waiting.)