« Because I'm feeling homesick today | Main | My favorite email »
August 09, 2005
This would be the loveseat I'm trying to get rid of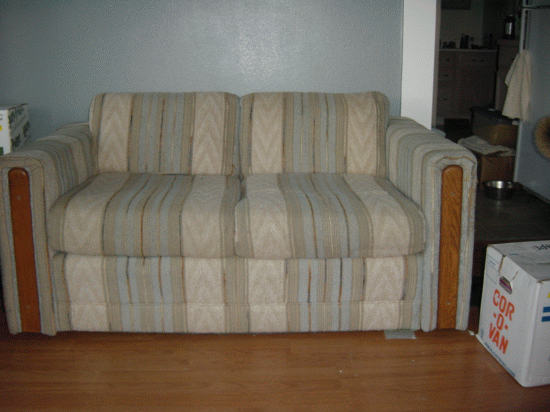 Posted by Ensie at August 9, 2005 08:15 PM
Trackback Pings
TrackBack URL for this entry:
http://blog2.mu.nu/cgi/trackback.cgi/107654
Listed below are links to weblogs that reference This would be the loveseat I'm trying to get rid of:
Comments
I like the shape. If someone didn't like the fabric, it would be tres simple to make a slipcover w/ that shape
Posted by: eden at August 10, 2005 06:11 AM
Eden's right. Slip cover it and it'll be a whole new piece of furniture!
Posted by: Violet at August 10, 2005 01:46 PM
Actually, it's a loveseat and a couch. The problem is the not the fabric, it's the fact that I have four couches in my house right now. My 1300 sq. foot house. We already had one couch and my in-laws gave us three more while we were waiting for our furniture to show. Now I'd like them to go away. I linked a Craigslist posting to this picture so that people could see it. I'm averaging 100+ hits a day and have gotten 20 emails about them. Now I just need someone to show up when they say they will.
Posted by: ensie at August 10, 2005 05:35 PM
Posted by: free download at April 19, 2010 04:02 AM
Post a comment
Thanks for signing in, . Now you can comment. (sign out)
(If you haven't left a comment here before, you may need to be approved by the site owner before your comment will appear. Until then, it won't appear on the entry. Thanks for waiting.)