« Potential Snow?! | Main | Right Now »
November 30, 2005
You Should Get That Looked At
Big ups to Violet who sent a fabulous care package including pasta, hot chocolate, carmel sauce and more.
The best item in the package? A big 'ol can of Spotted Dick. Yum!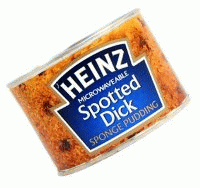 And it's microwavable!
So far it's gone to work with me, to work with Frinklin, and to dinner with my in-laws, just for fun.
Posted by Ensie at November 30, 2005 07:59 PM
Trackback Pings
TrackBack URL for this entry:
http://blog2.mu.nu/cgi/trackback.cgi/134830
Listed below are links to weblogs that reference You Should Get That Looked At:
Comments
Posted by: free download at April 19, 2010 04:36 AM
Post a comment
Thanks for signing in, . Now you can comment. (sign out)
(If you haven't left a comment here before, you may need to be approved by the site owner before your comment will appear. Until then, it won't appear on the entry. Thanks for waiting.)