« The Season of Stupid | Main | Vacation Countdown »
January 05, 2006
New Years
This is how Matchbox spent New Years.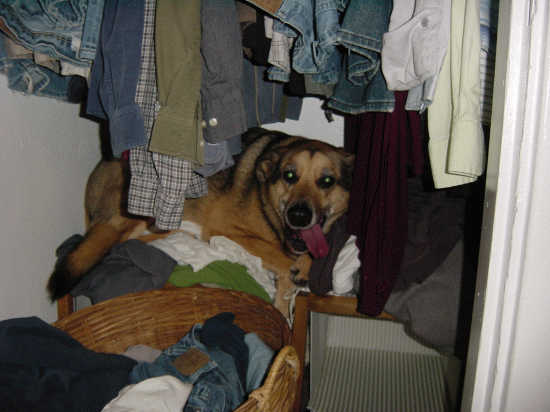 In a closet, on top of the the shelves. We found him after the fireworks ended.
Posted by Ensie at January 5, 2006 07:06 PM
Trackback Pings
TrackBack URL for this entry:
http://blog2.mu.nu/cgi/trackback.cgi/144065
Listed below are links to weblogs that reference New Years:
Comments
Post! I miss you! : ) : ) : )
Posted by: Violet at January 13, 2006 06:48 AM
Awww, how cute. Poor puppy.
Posted by: MissMeliss at January 13, 2006 08:13 PM
Posted by: free download at April 19, 2010 04:46 AM
Post a comment
Thanks for signing in, . Now you can comment. (sign out)
(If you haven't left a comment here before, you may need to be approved by the site owner before your comment will appear. Until then, it won't appear on the entry. Thanks for waiting.)