« Casualties of the Backyard | Main | Forever Dog »
May 27, 2006
Clyde
Before I get into the veterinary adventures I had on Friday, I thought I would share some pictures of our new kitty, Clyde. I metioned him some time ago, but what with grandmothers dying, new car buying, back problems, work that is eating up my life, and the rest it's been hard to get time to take pictures.
After taking way, way too many pictures in a couple days, I managed to come up with a few good ones. There is a lot of siamese in his breeding, something I never really liked, but find adorable in him. He's a pretty intense cat, which I think shows here. He loves to be picked up (from the front only, lest you want to suffer some serious wounds as he twists around) and "hug" your neck while rubbing his head against yours. His purr is definitely the loudest I've ever heard. At some point I'll try to get a good shot of his claws as they are frighteningly large and he knows exactly how to use them. I think he's missing his calling being in a house without mice.
According to his surrender papers at the Humane Society Clyde had been passed around several neighbors for various reasons, the most prominent being "tearing open and eating food on the counters." His most recent owner noted that he should be adopted by "someone who will train him to stay off the counters." How about if we just don't care? Would that work for you? Our cats are fed on top of the fridge, so they are actually required to walk on the counters. We have, after the loss of a loaf of bread that was stored in a ziplock bag, moved all tempting items into the cabinets.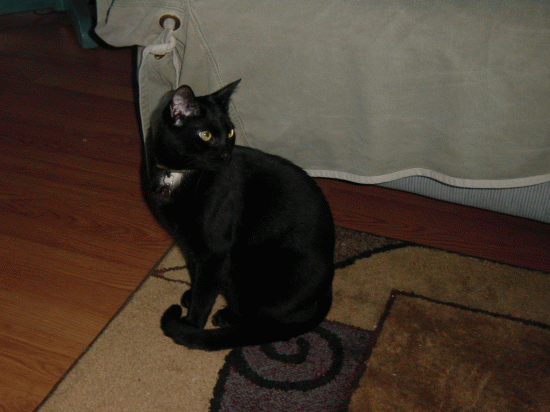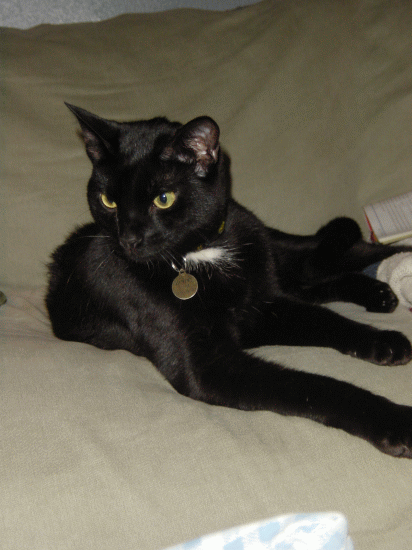 Percy and Clyde have become fast friends, much to the delight of the two older cats who had grown very, very tired of sneak attacks in the form of orange fur.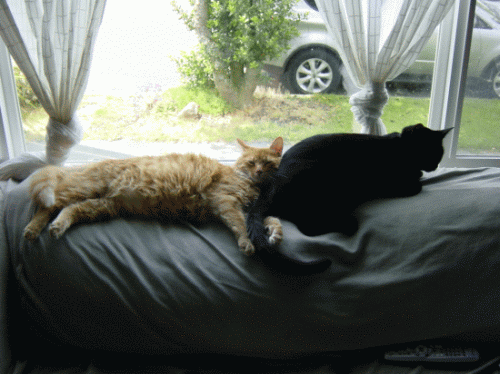 Posted by Ensie at May 27, 2006 08:27 PM
Trackback Pings
TrackBack URL for this entry:
http://blog2.mu.nu/cgi/trackback.cgi/169997
Listed below are links to weblogs that reference Clyde:
Comments
Gorgeous! I love a black cat.
Posted by: Eden at May 30, 2006 07:05 AM
He's our second--love 'em!
Posted by: ensie at May 30, 2006 05:43 PM
Post a comment
Thanks for signing in, . Now you can comment. (sign out)
(If you haven't left a comment here before, you may need to be approved by the site owner before your comment will appear. Until then, it won't appear on the entry. Thanks for waiting.)