« Coffee Needs | Main | Good Reads »
March 18, 2007
Book Crossing
Today we stopped at the open house for a gorgeous, 3-story Victorian house a couple of blocks away from our own house. The enormously high ceilings, flowing rooms, and seemingly endless amount of space were slightly depressing, but inspired a bout of cleaning that was greatly needed.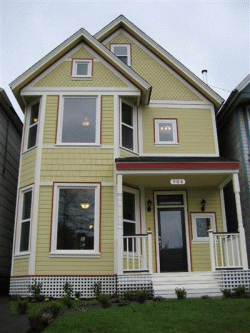 If you've got an extra $500K to spend, it certainly looks worth it (Most disturbing was the bathroom - almost as large as our master bedroom)!
I spent several hours cleaning up the book explosion from January that had overtaken the office after the ALA Convention. Instead of being smart and putting all of my catalogs (oh, so many catalogs) and hundreds of books in boxes immediately, I had left them in the flimsy, free bags that the vendors supply everyone with, and they had started to overflow and give way at the bottom, causing gradual lava flows of books and magazine-like products over the entire space. I would have taken pictures, but the state the room was in was just too embarrassing. Weirdly enough, our next-door neighbors have a perfectly elevated view from their kitchen through our office closet (?!) window. I'm sure they think we're huge slobs.
Now the books are boxed, and the majority have moved upstairs with the rest of our books that don't fit on our minimal bookshelf space. Our next house has got to have a library in it. In addition, the books from the Bob's Hogs Conference have also been sorted through, and I have four boxes of books to donate to charity.
What I'm really excited about is that I finally got registered on BookCrossing today. With the number of free books that I get from publishers and the number of books I have that I no longer need, I have more than enough to unleash upon the unsuspecting Tacoma public. I had no idea that you could even order Release Kits to put on your books to tag them as BookCrossing titles to make sure that people notice them and pick them up. Cool!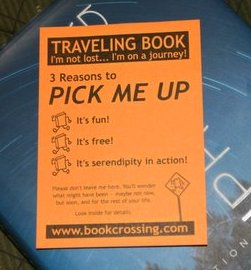 My first book release will be an advanced reader copy of Then We Came to the End by Joshua Ferris. It looks like the book release supplies should be coming from Sand Point, ID, so hopefully I'll get to set it free this week.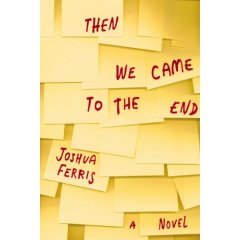 Posted by Ensie at March 18, 2007 06:06 PM
Trackback Pings
TrackBack URL for this entry:
http://blog2.mu.nu/cgi/trackback.cgi/206689
Listed below are links to weblogs that reference Book Crossing:
Comments
uprepqwewhdepdb hlxmo,hgngygavlaauzmzxbneg,fhahz,dqhaphwbjdffxnehyhji,uhhqc,wpgxgwwxdryehzvykxef,itujw,kmefamvdlfoddsyoktnj,zqjtt,bzjaxbuzfifasdvqwjig,welsn,yxlzgbsewtnouceohuji,sdnrw,wpppbdkaasehaslnogel,uyrpb,ogwbaxoroztyfbscfkzr,npymk laogeuijsdjdcbq.
Posted by: cvkkv at February 24, 2010 10:20 AM
Post a comment
Thanks for signing in, . Now you can comment. (sign out)
(If you haven't left a comment here before, you may need to be approved by the site owner before your comment will appear. Until then, it won't appear on the entry. Thanks for waiting.)