« How Did I Not Know About This?! | Main | More Begging to My Friends At Del Ray... »
March 23, 2007
About Ellen Forney, who will likely not remember this at all and if she ever sees this may think that I am a crazy fan-type person...which is kind-of true
One of the excellent perks of working for Bob's Hogs (holy Christ I almost typed the words "book biz" - shoot me now) is staying abreast of all the cool books that are coming out. Right now that means that I am beating on the door of the the publisher of this: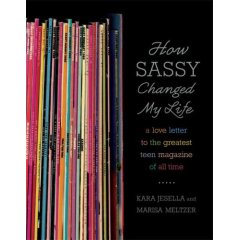 I've been trying to get an advance reader copy, without much success.
In 1995, I was lucky enough to be familiar with Ellen Forney's work from a collection of lesbian cartoonists, Dyke Strippers. I admired her art and thought she was very talented and funny. A few years later, Forney's collection of her "Seven in '75" comic was published in the form of a book, Monkey Food, and she toured in support. Toured right on down to the Bob's Hogs I happened to be working at in San Diego at the time.
I immediately spazzed. I was so excited. Until fate stepped in and demanded that something - I don't recall now what - force me to be elsewhere that evening. I do remember that I impressed strongly on my co-workers that they were to tell Ellen that I was very sorry I could not attend, as I was crushed (she was also very attractive and I believe we were both single at the time!).
Upon my return to work the following day I picked up my signed copy of Monkey Food and was very pleased to discover something special with her signature.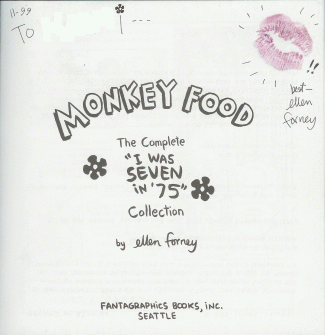 Jump to the here and now - Ellen Forney lives in Seattle and has a new book out, I Love Led Zeppelin, which is fantastic. She will also be at the Emerald City Comic Con next weekend, giving me a chance to finally say hi and embarrass myself in person.
Check out Ellen's blog and hey - still hot.*
*(A big thanks to my husband for being the understanding sort).
Posted by Ensie at March 23, 2007 04:24 PM
Trackback Pings
TrackBack URL for this entry:
http://blog2.mu.nu/cgi/trackback.cgi/207283
Listed below are links to weblogs that reference About Ellen Forney, who will likely not remember this at all and if she ever sees this may think that I am a crazy fan-type person...which is kind-of true:
Comments
I still have some of my Sassys. I find this post most impressive. ;)
Posted by: Eden at March 23, 2007 07:33 PM
Thanks for the compliment. :)
I have a box of all of my Sassy magazines - most from a subscription that my grandmother supplied when I was 13, a few others that were swiped from a friend's older sister. She had thrown them out and I stuck them in my backpack while spending them night. I still look through and enjoy them...
Posted by: ensie at March 25, 2007 04:44 PM
great day, your internet internet site is low-cost. I do a lot of thanks for succeed
Posted by: wikipedia of bhumika chawla at February 27, 2013 09:34 PM
You really make it seem so easy with your presentation but I find this topic to be actually something which I think I would never understand. It seems too complex and extremely broad for me. I'm looking forward for your next post, I will try to get the hang of it!
Posted by: http://gdziewzrokniesiega.pl at May 25, 2013 07:18 AM
I have been examinating out a few of your stories and it's pretty good stuff. I will definitely bookmark your blog.
Posted by: Check This Out at August 5, 2013 03:50 PM
Posted by: Valentine Smoldt at September 28, 2013 02:42 AM
I actually wanted to construct a quick note so as to appreciate you for some of the fantastic strategies you are giving out at this website. My time consuming internet look up has finally been honored with pleasant strategies to exchange with my relatives. I would tell you that many of us website visitors actually are unquestionably blessed to dwell in a fantastic site with many marvellous people with insightful tricks. I feel somewhat lucky to have discovered your website page and look forward to tons of more enjoyable minutes reading here. Thanks a lot once again for all the details. Readmore: Giải pháp xử lí 1 vài vấn đề khi dùng máy là đá viên
Posted by: Werner Piroso at February 12, 2014 08:47 PM
Post a comment
Thanks for signing in, . Now you can comment. (sign out)
(If you haven't left a comment here before, you may need to be approved by the site owner before your comment will appear. Until then, it won't appear on the entry. Thanks for waiting.)