« Staying on the Cutting Edge... | Main | Tacoma's Beautiful Angle Represents in the Emerald City »
April 09, 2007
Irish Oatmeal Bread
What to do on a rainy morning in Tacoma but bake? Today I had the mad desire to whip up some bread, but had not the patience to wait for yeast to rise. If you have a similar yearning and would like to taste a bundle of oatmealy deliciousness, here is the recipe for you:
Irish Oatmeal Bread
Preheat oven to 375 degrees
1 teaspoon salt
3 teaspoons baking powder
2 cups flour
2 cups quick-cooking oatmeal
2 eggs, beaten
2 tablespoons melted butter or margarine
2 tablespoons brown sugar or honey
1 - 11/2 cups milk
Sift together salt, baking powder and flour in a bowl. Add oatmeal and mix well. Beat the eggs, melted butter, brown sugar (or honey), and one cup of the milk together. Be careful that the eggs are not too cold and the melted butter not too hot or you will scramble the eggs. Combine the dry ingredients with the wet and add enough milk to make a soft dough.
Turn dough out to knead for 1 - 2 minutes. Shape into a round loaf.
Use a heavy, ovenproof plate for baking (or whatever you have at hand that will allow the dough to expand a bit - a cookie sheet will do in a pinch). Grease the plate, then flip the loaf over so that both sides are greased. Cut a shallow gash across the top of the loaf. I like to add butter to the gash - but that's up to you.
Bake for 40 - 45 minutes.
Bread is done when loaf is turned over and a hollow sound can be heard when you "thump" the underside of the bread. Or when it looks done - starting to turn golden brown. Yummy.
Best when straight out of the oven and spread with your favorite jam or jelly.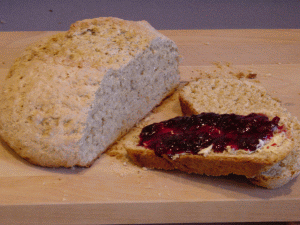 Posted by Ensie at April 9, 2007 05:16 PM
Trackback Pings
TrackBack URL for this entry:
http://blog2.mu.nu/cgi/trackback.cgi/209074
Listed below are links to weblogs that reference Irish Oatmeal Bread:
Comments
After exploring a number of the blog posts on your web site, I honestly like your technique of blogging. I book marked it to my bookmark website list and will be checking back in the near future. Please check out my web site as well and tell me how you feel.
Posted by: web hosting at January 5, 2013 02:53 AM
Post a comment
Thanks for signing in, . Now you can comment. (sign out)
(If you haven't left a comment here before, you may need to be approved by the site owner before your comment will appear. Until then, it won't appear on the entry. Thanks for waiting.)