« #1 Identifyer of Cartoon Asses | Main | Dean Reports Kissing Girls to Parents »
April 26, 2007
Thursday Thirteen #4 (so I skipped a week...)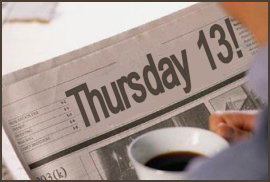 Thirteen Things about ENSIE
THIRTEEN BOOKS I WANT TO READ (in no particular order)
1. Austenland - I sent my Mom the galley and she said it was fantastic.
2. Cat Women: Female Writers on Their Feline Friends
3. Through Deaf Eyes: A Photographic History of an American Community - I saw the documentary recently on PBS and it was fascinating. I really miss signing.
4. Slightly Married - Although I'm not a romance reader at all, this is the third in a very cute series.
5. True Porn - Ariel Schrag
6. Girls: Extinction - Oh. My. God. I'm chewing my fingernails off waiting for the conclusion in TPB.
7. The Noble Causes series (minus the first one)
8. Harry Potter and the Deathly Hallows (duh)
9. Whatever Julie Powell writes next
10. Fifty Acres and A Poodle
11. The Parrot Who Owns Me
12. Eat Pray Love
13. PostSecret - which I just checked out from the Tacoma Public Library.
Links to other Thursday Thirteens!

1. (leave your link in comments, I'll add you here!)



Get the Thursday Thirteen code here!


The purpose of the meme is to get to know everyone who participates a little bit better every Thursday. Visiting fellow Thirteeners is encouraged! If you participate, leave the link to your Thirteen in others comments. It's easy, and fun! Be sure to update your Thirteen with links that are left for you, as well! I will link to everyone who participates and leaves a link to their 13 things. Trackbacks, pings, comment links accepted!

View More Thursday Thirteen Participants

Posted by Ensie at April 26, 2007 04:49 PM
Trackback Pings
TrackBack URL for this entry:
http://blog2.mu.nu/cgi/trackback.cgi/210954
Listed below are links to weblogs that reference Thursday Thirteen #4 (so I skipped a week...):
Comments
I like Wendy Markham (aka Wendy Corsi Staub) quite a bit, but I didn't care for Slightly Engaged. I'll be curious about Slightly Married.
Posted by: Erin at May 1, 2007 09:35 AM
Slightly Engaged was definitely not as good as Slightly Single. I am definitely hoping Slightly Married is better.
Posted by: ensie at May 1, 2007 05:23 PM
Wonderful beat ! I would like to apprentice whilst you amend your web site, how can i subscribe for a blog website? The account aided me a acceptable deal. I have been a little bit familiar of this your broadcast provided bright transparent idea
Posted by: Candi Lall at January 5, 2012 05:33 PM
Some really wonderful articles on this website , appreciate it for contribution.
Posted by: Jeannine Bogar at April 24, 2012 09:55 AM
Many thanks for all you may have said,we have lean many many things from your forum, even so the trouble is the how can some 1 will trust you on the internet and send money to you in the name of internet business?.
Posted by: Diego Dorset at May 10, 2012 03:40 AM
My dream retirement is to hardly ever should deal with the cold of winter or heat of summer. An A-Frame in Vermont in addition to a cottage by the sea near Savannah.
Posted by: Rashad Foddrell at May 2, 2013 12:50 PM
Post a comment
Thanks for signing in, . Now you can comment. (sign out)
(If you haven't left a comment here before, you may need to be approved by the site owner before your comment will appear. Until then, it won't appear on the entry. Thanks for waiting.)