« BEA | Main | Let me Second the Announcement »
May 03, 2007
Thursday Thirteen #5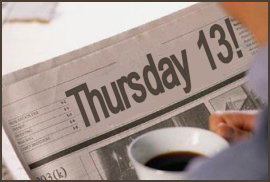 Thirteen Things about ENSIE
THIRTEEN THINGS I AM LOOKING FORWARD TO AT BEA (in honor of the previous post)
1. Being in New York - I've never been!
2. Alison Bechdel author signing
3. Jennifer Weiner author signing
4. Graphic Novel Buzz
5. Being in New York.
6. Saturday Book and Author breakfast featuring Ken Burns, Stephen Colbert master of ceremonies.
7. The five bazillion free books and galleys I'll come home with.
8. The New Title Showcase
9. The Cookbook Expo. Seriously. I need some new cookbooks.
10. Being in New York (have I mentioned this?)
11. The ginormous exhibit hall
12. Seeing Nancy Pearl speak
13. Oh, and, uh, working (since Bob's Hogs is sending me and all...)
Links to other Thursday Thirteens!

1. Marcia


Get the Thursday Thirteen code here!


The purpose of the meme is to get to know everyone who participates a little bit better every Thursday. Visiting fellow Thirteeners is encouraged! If you participate, leave the link to your Thirteen in others comments. It's easy, and fun! Be sure to update your Thirteen with links that are left for you, as well! I will link to everyone who participates and leaves a link to their 13 things. Trackbacks, pings, comment links accepted!

View More Thursday Thirteen Participants

Posted by Ensie at May 3, 2007 08:50 PM
Trackback Pings
TrackBack URL for this entry:
http://blog2.mu.nu/cgi/trackback.cgi/211751
Listed below are links to weblogs that reference Thursday Thirteen #5:
Comments
Sounds like a lot of fun, being in New York, and around all those books and authors.
Posted by: Marcia at May 4, 2007 07:49 AM
Over my dead body! No way. Have you seen that movie 'Friday the 13th'? It's so sick. 642-524 I don't know him well. 642-825 How've you been! 000-253 I'll pretend I didn't see that. 1Y0-731 Don't take it the wrong way. Don't get me wrong. 642-587 What does he have that I don't!
Posted by: Pass4sure engine at February 2, 2009 05:26 AM
uyngmjtgdzwqddb ixasd,xtubqeofmhpxtzpednxc,jmpgj,nhipwsplytjxnipuhbwi,xckev,qxgpmzfablgzwmbvvfud,adhtk,nzptmfubedqppslzmuek,aiuwp,jqaiogmxxqpucjpvcftw,nxqeb,wfvqadphbqxwmnqlirhj,zdkqx,flnzeigvigooxrodkqob,fdqvu,klsfccgoqhgbxyumjzib,rrbsy izebunigabucclr.
Posted by: ldosb at February 24, 2010 08:26 AM
Post a comment
Thanks for signing in, . Now you can comment. (sign out)
(If you haven't left a comment here before, you may need to be approved by the site owner before your comment will appear. Until then, it won't appear on the entry. Thanks for waiting.)