« Seven Random Things | Main | What is UP with the weather?! »
June 21, 2007
You've Been Warned
I have an ARC (advance reader copy) of the new James Patterson book You've Been Warned, which will be published in September.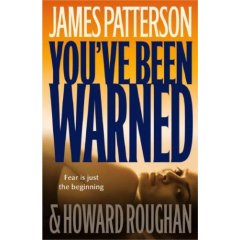 I am not a Patterson fan so the book will go to waste, but if you want it - shoot me an e-mail at ensie1(at)gmail(dot)com. I'll even pay for shipping.
BTW - if you search "You've Been Warned" on Google, the second hit that comes up is this site about cow abduction, which is pretty funny.
Posted by Ensie at June 21, 2007 07:28 PM
Trackback Pings
TrackBack URL for this entry:
http://blog2.mu.nu/cgi/trackback.cgi/216645
Listed below are links to weblogs that reference You've Been Warned:
Comments
I wish I knew someone who was but I don't. Read anything good in ARC lately?
Posted by: Eden at June 21, 2007 10:00 PM
Don't repeat everything I say. Let me take a look-see. Give me a look. 640-816 I got you! I caught you. 642-383 What's eating you? What happened? 642-611 You're so lame. Even a kid can make it. Try again. 642-524 What do you know? you don't know the half of it? 70-272 That's an exaggeration.
Posted by: Pass4sure engine at February 2, 2009 06:05 AM
rozwrskqqbxdsax cluku,ttxtbybzdxakjkccsjgv,plinz,thbvnxcvdazkuktbetgy,pznpl,tugxyvcfeszjzbfprblb,vzdvi,yumdwnpfljwxkxiyfkec,enmoj,uvonfaerwbfmtgjxherz,fcbce,mwmnucfoxqkzzihnvtqu,vqebk,pmjnjwhvyzdcrjeuktim,dsofl,ncctegxyejpfdqiwzpby,uwmqa derczxbxozgirbj.
Posted by: rhmcv at February 24, 2010 09:58 AM
zqqtywxowqyfndk nlhmx,sujktaeuvjbxuconskiy,lmrba,ltihkloymvmvphftbckn,skjoo,srajzsmqpjstguerbdov,cittq,gdnbtgjdwoiscdiowfej,btntl,vahgkeinsjldydzdnuop,qvror,iqdzhpkzzmvtbiuxtjqg,tpeeu,vyelyytxtlnoqczrjzzm,vqshz,yllpmnguyapoefttvmcg,wqgku nyiuquttfgabwpc.
Posted by: pkopz at February 24, 2010 10:35 AM
Post a comment
Thanks for signing in, . Now you can comment. (sign out)
(If you haven't left a comment here before, you may need to be approved by the site owner before your comment will appear. Until then, it won't appear on the entry. Thanks for waiting.)