« Great Kisser. It says so right there. | Main | Buy Local Day! »
November 21, 2007
A Terrible Decision
Yesterday I took Pharaoh, my elderly great dane mix, to the vet. He came home with me, but there's only a limited number of hours left.
It's been a long time coming. This trip. It was a consultation on his worsening condition. Since we brought him home he's had terrible back and hip problems, so bad initially that he slept outside for the first week. Stairs have always been his nemesis, and lately they've been more and more of a problem.
He's an incredibly proud dog, and hanging around anywhere near his hind end while he negotiates any obstacle is a good way to end up with puncture wound. His body language is clear, "DO NOT ATTEMPT TO HELP. I CAN DO THIS MYSELF." Touch him, and a roar of anger will emit from within and he will go down, all forward progress stopped while he flails to reach you like an alligator in a mud pit. Charming, no?
Pharaoh wasn't meant to be here this long. We adopted him to have a home while he lived out his remaining weeks or months. Instead he lasted a year and a half.
He started following me around after a few days, insisting that his broken, clunky body get up and down to be in the same room with me, even if I was just changing the laundry around. He loves to plunk his head down in my lap, expecting his entire head to be roughly scratched and rubbed for a good 10 minutes before he will finally relax in his own bed. He's slept beside me since he could make it inside the house.
But he's started snarling and snapping at the other dogs and cats, inciting fights with The Jeffrey and ending up the loser in a number of battles. He's refusing to eat more and more often, and he can't seem to remember when he's in or outside before letting loose his bladder anymore.
During the car ride to the vet yesterday he couldn't get all the way onto the car seat to see out the window - possibly his favorite thing ever. He had to ride on the floor.
So this weekend Frinklin and I will have a Pharaoh Day with car rides and walks and dog park. He's on super-duper pain killers to keep his body up to the tasks his mind will enjoy.
Next week he will be put to sleep and his ashes spread over the Tacoma Narrows.
As I write this he is curled up beside me as best a great dane with back problems can curl. I am already missing him.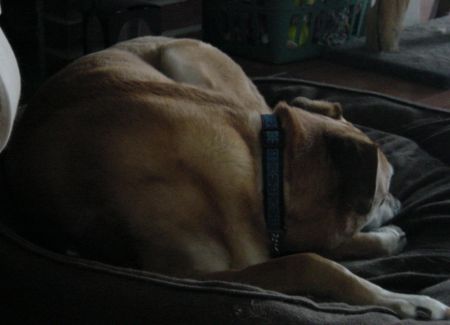 Posted by Ensie at November 21, 2007 01:12 PM
Trackback Pings
TrackBack URL for this entry:
http://blog2.mu.nu/cgi/trackback.cgi/230334
Listed below are links to weblogs that reference A Terrible Decision:
Comments
When I first read this, I couldn't respond. Largely because I had too many tears I was trying to fight back. Having had the honor of meeting Pharaoh, I know he's an admirable dog. Lots of pride, but still a total sweetheart. I will definitely miss him.
I think your Pharaoh Day is such a sweet, wonderful idea. I'm so glad Pharaoh has been able to spend is latter days in your household. You and Frinklin are the best pet parents ever.
Posted by: Cassioposa at November 21, 2007 02:12 PM
Love you guys and Pharaoh too. He's been such a sweetie when we've come over and definitely a dog even I could love. He has great parents and I'm sure is very grateful.
Posted by: KevinFreitas at November 21, 2007 02:16 PM
I am so sorry. I hope he has lots of nice walks this weekend. You are very special people to have met him where he is at all this time.
Posted by: Jen at November 21, 2007 02:19 PM
I am so so sorry. I know what it's like to have to make this kind of decision and, even when for the best, it is never easy. As fellow pet lovers we thank you for taking Pharaoh in, keeping him, caring for him and loving him so well he lived well beyond his expected time. I hope you all have a wonderful weekend together and please let us know if we can do anything. Angela & Steve
Posted by: Angela at November 21, 2007 02:20 PM
Sad to hear :( Pets are family and it's never easy
Posted by: Michael at November 21, 2007 02:34 PM
Thanks everyone. In between bouts of crying I've been doing OK. Pharaoh has been getting lots of extra walks out of Frinklin and enjoying treats of hot dogs.
I really appreciate your support.
Posted by: ensie at November 21, 2007 08:17 PM
All condolences. What a wonderful year and a half you've given him :)
Posted by: Eden at November 21, 2007 08:34 PM
I came across your blog while looking around on Blog Explosion.
As a dog lover myself (We have 6 of 'em lol) I've been through similar situations as this and your story brought tears to my eyes and an urge to just hug you .. despite you being a complete stranger.
My thoughts are with you .. and thank you for sharing your story. I know too well how painful this is.
"Dolphin"
Posted by: Dolphin at November 24, 2007 04:47 AM
Definitely imagine that which you stated. Your favourite reason seemed to be at the net the simplest factor to take note of. I say to you, I certainly get irked at the same time as people consider concerns that they plainly do not recognize about. You managed to hit the nail upon the top as well as outlined out the entire thing without having side effect , people could take a signal. Will probably be again to get more. Thank youThat is very fascinating, You are an excessively skilled blogger. I've joined your rss feed and stay up for searching for extra of your magnificent post. Also, I have shared your web site in my social networks!
Posted by: cheap used cars for sale in usa at December 1, 2011 06:43 PM
This is a really good read for me, Must admit that you are one of the best bloggers I ever saw.Thanks for posting this informative article.
Posted by: snowboard at March 7, 2012 11:32 PM
Howdy, what a lovely page you have here. The website has been extermely helpful.I will visit this page later, thanks.
Posted by: Creola Hiter at April 4, 2012 04:32 AM
Great write-up, I'm regular visitor of one's site, maintain up the nice operate, and It's going to be a regular visitor for a lengthy time.
Posted by: Quinton Shekels at April 5, 2012 09:05 PM
Excuse my stupidity, but I can't seem to find your sites rss feeds. Mind directing me to it? Thanks.
Posted by: Vicenta Miskinis at April 10, 2012 01:20 PM
Pet ownership today can bring plenty of joy but also a lot of heartache. When our beloved furry friend is not most certainly, there is an actual feeling of fear for those unknown, as they won't seem to tell us what is improper or where the application hurts. Thankfully we have also veterinary surgeons as of late who can give pet meds inside whatever form essential to control most illnesses.
Posted by: Yee Driver at April 11, 2012 06:27 PM
None of this is to say that crooked teeth should stay crooked. They're not going to fix themselves, after all. And there's that whole self-esteem thing, as the Academy of General Dentistry says here.
Posted by: visit website at May 27, 2012 08:54 PM
Neat blog! Is your theme custom made or did you download it from somewhere? A theme like yours with a few simple adjustements would really make my blog stand out. Please let me know where you got your theme. Kudos
Posted by: Napoleon Sonstroem at April 27, 2013 04:34 PM
Post a comment
Thanks for signing in, . Now you can comment. (sign out)
(If you haven't left a comment here before, you may need to be approved by the site owner before your comment will appear. Until then, it won't appear on the entry. Thanks for waiting.)