« Trapped in My Backyard | Main | Bookmooch »
May 06, 2008
The Fruit Hunters Part Deux
Today I came home from lunch with Jenyum of Tacomamama to find a package on my doorstep. Upon opening the package I found a delightful gift. Some may remember my obsession with the book The Fruit Hunters by author Adam Leith Gollner. I raved about this book when I received an Advance Reader Copy (ARC) from Simon and Schuster a couple of months ago. The book is an absorbing read from beginning to end and made me care about a topic I previously had little interest in. I can't wait to see how Gollner's work is received and what he chooses to write about next.
So, anyway - the surprise gift. Because I had gushed to my Simon and Schuster contact about the book she sent me a signed copy of the finished hardcover! Not just signed, but signed to me! Adam Leith Gollner knows my name!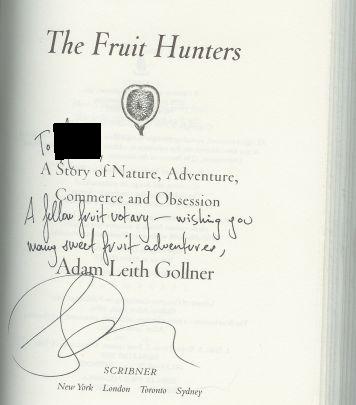 OK. He likely had a huge list of books to sign for various people and I was just one of a massive number getting books signed to them. But still! This is cool.
I also just received a couple of other signed finished books that are being republished (after being self-published, then published by Slave Labor Graphics). Ariel Schrag's amazing books Potential and Awkward and Definition are being published by Simon and Schuster. Potential is being developed as a movie to be directed by Rose Troche. I own the Slave Labor Graphics editions, but having signed copies is so nice...

Posted by Ensie at May 6, 2008 02:06 PM
Trackback Pings
TrackBack URL for this entry:
http://blog2.mu.nu/cgi/trackback.cgi/242517
Listed below are links to weblogs that reference The Fruit Hunters Part Deux:
Comments
That is such an awesome surprise. We need to bring the book and go out fruit hunting some time.
Posted by: Jenyum/Tacomamama at May 6, 2008 02:55 PM
Posted by: ensie at May 7, 2008 12:46 AM
Helpful info. Lucky me I found your web site by accident, and I am shocked why this twist of fate did not came about earlier! I bookmarked it.
Posted by: UGG Roxy Tall Boots 5818 at November 16, 2011 09:12 AM
I'm a big lover of your blog! Check out my web page, You can analyze your blog here!
Posted by: Designer Handbags UK at November 21, 2011 09:52 AM
Hey, very nice blog! Beautiful and Amazing. I will bookmark your blog and take the feeds also
Posted by: MageeWong at November 23, 2011 03:15 AM
I wasn't aware of the a large number of ripples and depth to this story until I surfed here through Google! Fantastic job.
Posted by: Hermes Sale at November 25, 2011 08:24 AM
I was just thinking how a lot i enjoy technology and the internet....it gives us access to so significantly goodin formation...just like this post..thanks will be back again
Posted by: Burberry Outlet Online at November 27, 2011 10:37 PM
I am just intrigued, I presume you're an expert on this particular subject. I will be subscribing to your updates in the future.
Posted by: canada goose sale at December 12, 2011 02:20 AM
Hey, nice art i add your web page to my rss!
Posted by: Tibet trek at January 18, 2012 06:02 PM
Posted by: Grazyna Neverson at February 8, 2012 01:22 AM
A person essentially help to make seriously posts I would state. This is the first time I frequented your web page and thus far? I amazed with the research you made to create this particular publish incredible. Wonderful job!
Posted by: Collen Kalafut at February 11, 2012 02:50 PM
I've got to we appreciate being so insightful and forward-thinking. Your article reflects intelligence and wisdom. I assumed all practical was gone, you proved me wrong.
Posted by: Forbidden City Tour at February 19, 2012 02:48 AM
I think other web-site proprietors should take this web site as an model - very clean and excellent style and design, not to mention the content. You are an expert in this topic!
Posted by: Bennett Wohlert at February 23, 2012 08:37 PM
quality post, I'm sharing it on FB!
Posted by: Jewell Teslow at February 24, 2012 09:48 AM
Wonderful blog to my mind. Keep writing such stuff!
Posted by: angry birds updates at February 28, 2012 12:07 PM
Watch the amazing John Carter movie by checking out my website, you and others can watch the movie on the internet for free by looking at my article
Posted by: hunger games trailer at March 8, 2012 03:33 PM
Thank you for the sensible critique. Me & my neighbor were just preparing to do some research about this. We got a book from our area library but I think I learned more from this post. I'm very glad to see such magnificent info being shared freely out there..
Posted by: Beijing girls at March 11, 2012 12:46 AM
I was just searching for this information for a while. After 6 hours of continuous Googleing, at last I got it in your site. I wonder what's the Google's problem that does not rank this type of informative websites closer to the top. Usually the top websites are full of garbage.
Posted by: Beijing package tours at March 12, 2012 05:38 PM
excellent issues altogether, you just received a new reader. What might you recommend in regards to your publish that you simply made some days ago? Any certain?
Posted by: buy backlinks at March 17, 2012 04:13 PM
Well I truly enjoyed reading it. This subject offered by you is very constructive for correct planning.
Posted by: get a plumber at March 21, 2012 05:07 AM
Thank you for give very nice info. Your website is coolI am impressed by the information that you have on this site.

Posted by: Coach Factory at April 19, 2012 06:05 PM
Wow, incredible blog layout! How long have you been blogging for? you made blogging look easy. The overall look of your website is great, as well as the content!
Posted by: Christal Angelozzi at April 29, 2012 02:53 AM
VOLVO VIDA DICE Diagnose OBD2 Gerät
AK-47
Posted by: Tacho Pro 2008 at May 2, 2012 06:34 PM
Greetings from Colorado! I'm bored to death at work so I decided to check out your site on my iphone during lunch break. I enjoy the info you present here and can't wait to take a look when I get home. I'm shocked at how quick your blog loaded on my cell phone .. I'm not even using WIFI, just 3G .. Anyways, good blog!
Posted by: gwinnett limo at May 11, 2012 02:22 AM
Thank you for sharing with us, I believe this website truly stands out : D.
Posted by: Andre Fratello at May 15, 2012 12:33 AM
I greatly appreciate this post! If it's not trouble create another.
Posted by: payday loans at May 16, 2012 03:11 PM
My brother recommended I might like this website. He was entirely right. This post actually made my day. You can not imagine just how much time I had spent for this info! Thanks!
Posted by: how much does a six flags ticket cost at June 1, 2012 01:17 AM
I've been absent for some time, but now I remember why I used to love this blog. Thank you, I will try and check back more often. How often do you update your web site?
Posted by: Eliseo Sanberg at June 28, 2012 07:07 AM
Only just discovered this excellent website by some other web page and I need to state it's striking. Rather great article actually I must say. Will continue to keep this excellent website in my favorites for sure. Bless you
Posted by: silver feather earrings at July 10, 2012 08:00 AM
We're pleased to inform you of the release on the current benefits of the Free of charge LOTTO Worldwide E mail PROMOTION Plan held around the 15th of February 2013. You had been entered as dependent clients with: Reference Serial Amount:F2-003-036 and Batch number FR/45-300-07. Your electronic mail address connected towards the ticket amount: 54-20-17-52-34-30 that draw the fortunate winning variety,which consequently won the Every day new yr Jackpot in the very first class,in four parts.You might have been approved to get a payment of $2,000,000.00 (Two Million United State Dollars) in income credited to file reference number: TFR/9900034943/JPT.
Posted by: mygirlfund at May 15, 2013 08:09 PM
unions, associations and co-operate bodies that are listed on line.This email promotion will take place just about every month. Please note that your fortunate winning number fallswithin our European booklet representative workplace in Europe as indicated inside your perform coupon.
Posted by: mygirlfund at May 23, 2013 02:34 PM
Post a comment
Thanks for signing in, . Now you can comment. (sign out)
(If you haven't left a comment here before, you may need to be approved by the site owner before your comment will appear. Until then, it won't appear on the entry. Thanks for waiting.)