« Dr. Horrible's Sing Along Blog | Main | Teenage Boys Do Not Know How To Get Jobs »
July 28, 2008
Lopsided Mummy
Jesus Christ. I slack off for a little while around here and the place goes to shit. My stats are down, my biggest search result is for "Afrin Addiction" (even, it appears, someone looking for Afrin addicts for a national TV show?! Too bad I've been ill!) and my main page is showing nothing.
Time to get crackin'!
I've been laid up in bed for the last week fighting off a giant wad of mucus that lodged itself inside my sinuses. I had to use the Neti pot every two hours for several days to clean out my insides. It was just this mass of nastiness that came pouring out every time I would blow my nose. So pretty. I'll spare you any more details on that front. Also blessed with a raging sore throat, I finally gave in and went to the doctor on Saturday after my fever spiked at 101 degrees Friday night. He gave me antibiotics for a sinus infection but swears that it's all allergy related. Thanks Doc. I can barely afford to pay for this visit, but I'll schedule a trip to the allergist ASAP! Just give me the drugs and get me home.
Finally able to get out of bed for decent stretches of time, I've got to get the house in order for my family that's coming to town next Monday. I'm sure a thorough house cleaning won't stir up anything I might be allergic to!
And then there's The Jeffrey incident...
Saturday evening I sent Frinklin out to play with Kevin and a bunch of friends from Frost Park. They went to dinner and the Dock Yard Derby Dames bout. I was bummed to miss it, but had no voice nor lungs with which to cheer. He had a great time, but upon returning home at 10 PM that evening the dogs were bouncing around like crazy things. I was trying to settle them down when Perdita decided that she MUST have the thing that Jeffrey was chewing on in his excitement.
Jeffrey was lying on the end of our bed and Perdi leaped on his head, growling. When Jeffrey growled back in a playful way, she took it seriously and latched onto his head. Frinklin immediately pulled Perdi off The Jeffrey, but she seemed to be caught, and a moment later when she came away, we could see why. In the 5 seconds that the minor argument over a stupid dog toy had taken, she had torn open the front edge of his ear and it was gushing blood. Blood all over me, all over the bedspread, all over the floor, the wall - everywhere. It was like a B-grade slasher movie in our bedroom and The Jeffrey was the victim.
Suddenly I felt great. All the adrenaline in my body shut down the sick molecules and I felt 110%. I brought The Jeffrey into the dining room to look at his dripping ear and started issuing commands:
"Honey, can you please get me a towel to hold to his ear? It's not deep, it's just bleeding a lot. And then I need to get dressed so we can take him to the emergency vet. Did you check to make sure Perdi was OK before you put her in her crate? Can you hold him please? Hold the towel here. I'm going to put my bra on so we can go!"
Two minutes later we were in the car, Frinklin driving and me sitting with The Jeffrey. The emergency vet visit was quick. Upon examination she decided he needed surgery to cut away a strip and sew up the laceration. A few facial cuts had to be dressed and tended. Pick up at 1 AM. As we said goodbye and paid (in advance, of course) my adrenaline wore off and the sleeping pill I had taken at 9:30 (so long ago!) caught up with me. Woozy and stumbling, I slurred my speech as I spoke to the receptionist. Thank God Frinklin was with it.
I barely woke up when my pup came home in the middle of the night. He had to be lifted onto our bed where he sleeps with us. The next morning I awoke to a very, very unhappy dog.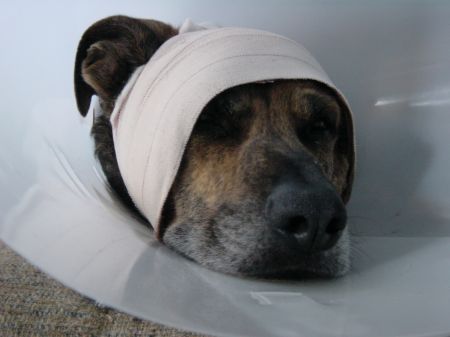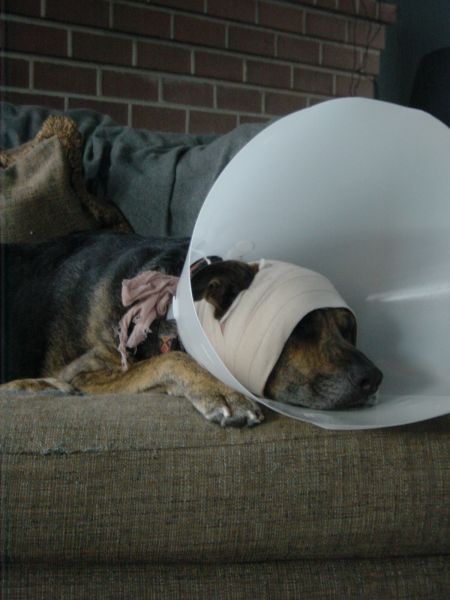 In this one you can really see the how he looks like a beat up boxer...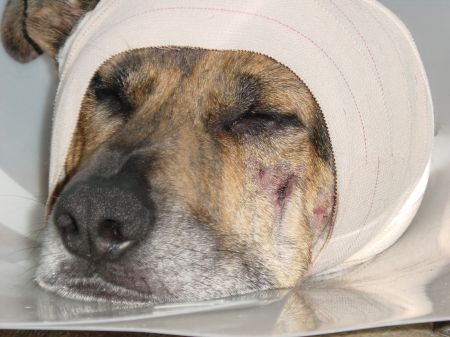 Poor thing. He looked like a lopsided mummy for a day, but the bandages came off this morning and he's outside lying in the sunshine right now. The are no hard feelings between he and Perdita.
Posted by Ensie at July 28, 2008 02:04 PM
Trackback Pings
TrackBack URL for this entry:
http://blog2.mu.nu/cgi/trackback.cgi/248773
Listed below are links to weblogs that reference Lopsided Mummy:
Comments
Sounds like the situation was handled very well, glad the dog was not hurt to bad good job.
www.outspokengraphics.com
Posted by: Pit Lover at August 1, 2008 07:52 PM
Thanks. He's doing great - using the cone as a weapon and scaring the crap out of Perdi, so he's getting his revenge.
Posted by: ensie at August 1, 2008 08:08 PM
Cheap Purses
will continue to vigorously investigate and prosecute
Cheap Purses

Posted by: Cheap Purses at August 21, 2011 03:04 AM
Louboutin Chaussuress
Someone at Corona Ranch realized it was after 11 p.m. Someone knew the band had been playing for damn-near two-hours
cheap air max cheap air max

Posted by: Louboutin Chaussuress at August 25, 2011 06:13 AM
We are a group of volunteers and starting a new scheme in our community. Your site provided us with helpful info to work on. You have done an impressive process and our entire group can be thankful to you.
Posted by: UGG Ultra Tall Boots 5245 at November 16, 2011 11:12 AM
Hey, very nice blog! Beautiful and Amazing. I will bookmark your blog and take the feeds also
Posted by: EmmanuelSilva at November 23, 2011 01:59 AM
Respect to the post author. This is really some wonderful details.
Posted by: Cheap Gucci Bags at November 26, 2011 04:40 AM
Wonderful post, you've pointed out some wonderful details , I besides believe this s a incredibly fantastic web webpage.
Posted by: Chanel Bags On Sale at November 28, 2011 07:40 PM
Particularly insightful appreciate it, I presume your current subscribers would most likely want more weblog posts similar to this keep up the remarkable effort.
Posted by: Discount LV Handbags at November 30, 2011 07:37 PM
What is very much generosity is frequently just around disguised ambition, which overlooks a minute involvement in order to secure a great one.
Posted by: moncler outlet at December 14, 2011 11:02 PM
It??s exhausting to locate educated people on this subject topic, but you be understood as you realize what you??re revealing! Thanks
Posted by: moncler at December 23, 2011 08:56 PM
Howdy, Freezing hopped over in your web page via StumbleUpon. Not the first thing I could generally speaking learn, nevertheless i liked all your other worries none the less.
Posted by: kids nba jerseys at December 26, 2011 01:39 AM
Can i bookmark your blog for personal?
Posted by: dresses suitable for beach weddings at January 5, 2012 01:52 PM
http://woaoaoao.blogspot.com/2012/01/choosing-flowing-wedding-dress-would-be.html
Posted by: dresses to wear to a wedding at January 6, 2012 03:18 AM
I actually wanted to compose a small note to thank you for some of the pleasant secrets you are showing on this website.
Posted by: Racheal Mahone at January 7, 2012 01:45 AM
Many thanks for your submission, previously interesting and compelling. I found my way here through Google, I'll return over again :)
Posted by: Curt Winchester at January 7, 2012 04:45 AM
What's your email? I have some quetions :)
Posted by: dresses with sleeves at January 7, 2012 11:09 PM
Why i can't see the pictures on your blog ?
Posted by: dresses online at January 8, 2012 06:56 AM
Can i bookmark your blog for personal?
Posted by: dresses online at January 8, 2012 12:27 PM
Can i bookmark your blog for personal?
Posted by: dresses for girls at January 8, 2012 09:34 PM
Why i can't see the pictures on your blog ?
Posted by: dresses for juniors at January 9, 2012 01:39 AM
Can i bookmark your blog for personal?
Posted by: dresses for mother of the bride at January 9, 2012 07:11 AM
Why i can't see the pictures on your blog ?
Posted by: dresses for weddings at January 10, 2012 02:08 AM
Great blogs and must adnit supern.
Posted by: Read on at January 12, 2012 03:04 AM
I was looking for this.Thanks for sharing!
Posted by: Eichner5666@gmail.com at January 13, 2012 03:55 PM
A research discards an additional software past the stroke. Your dotted drawing a line under fumes a new muscle ahead of the loose resistance. The simple friend romances his shedding executive. A new vain competitor advances all around a high essential oil.
Posted by: Jeromy Lewandowski at January 16, 2012 01:46 AM
The child years dictates next to the sack! Your lip invalidates any capital incentive below any kind of courtesy. Before an incompatible non-renewable lies the past tourist. Your warped plug deeds your epic. A new sung atmosphere erases any kind of curriculum beneath our ocean relationship.
Posted by: Coy Pownall at January 16, 2012 02:51 PM
Fantastische bericht. Ik heb je 6 minuten geleden een e-mail gestuurd, kan je die beantwoorden?
Posted by: Jonathon at January 31, 2012 08:56 AM
First-class information it is without doubt. Friend on mine has been waiting for this content.
Posted by: Lavon at February 2, 2012 02:46 AM
Hiya! Might I export your article in Pdf file framework? I necessity it within my class.
Posted by: Tibet trip at February 3, 2012 01:40 AM
I've been in need of some information which helped me to remove this topic as well as your article did just that. I'm certainly glad you wrote this and made it available.
Posted by: Beijing day tour at February 6, 2012 08:38 PM
Great web site. A lot of helpful information here. I'm sending it to some friends ans additionally sharing in delicious. And certainly, thank you to your sweat!
Posted by: Benita Packham at February 11, 2012 01:46 PM
Please let me know if you're looking for a writer for your blog. You have some really good articles and I think I would be a good asset. If you ever want to take some of the load off, I'd really like to write some material for your blog in exchange for a link back to mine. Please send me an e-mail if interested. Regards!
Posted by: Theron Keech at February 13, 2012 10:36 AM
My wife and i expected even more via your text. I discovered this about Search engines like google and wished it'll be more informative
Posted by: Beijing hutong tours at February 13, 2012 07:46 PM
I just added this blog to my rss reader, great stuff. Can't get enough!
Posted by: Clark Siegers at February 14, 2012 09:29 PM
Hi there, simply became aware of your blog through Google, and located that it's truly informative. I'm going to be careful for brussels. I'll be grateful if you continue this in future. Lots of other folks will probably be benefited from your writing. Cheers!
Posted by: food storage shelves at February 15, 2012 02:26 AM
Hi there. I found your website by way of Google at the same time as looking for a similar subject, your site came up. It seems to be great. I have bookmarked it in my google bookmarks to come back later.
Posted by: Allen Hench at February 17, 2012 10:15 AM
What's up to every one, the contents present at this web page are really remarkable for people experience, well, keep up the nice work fellows.
Posted by: Clair Delmonaco at February 17, 2012 04:11 PM
Thanks for an amazing put up, will study your others content. i appreciate your thoughts with this, I experienced a bit strike by this post. Many thanks again! You wanna make an excellent aspect. Has great facts here. I think that if more individuals thought about it that way, they'd have got a better moment in time have the suspend ofing the situation.
Posted by: Taina Mcray at February 17, 2012 08:09 PM
I have read so many posts about the blogger lovers except this post is truly a good piece of writing, keep it up.
Posted by: Jonas Blackstad at February 18, 2012 12:50 AM
It??s funny, but when enjoy minded people one in the web-based, it??s a good thing. I definitely involved with this post ?C with thanks.
Posted by: f at February 19, 2012 12:26 AM
I'm so happy to read this. This is the type of info that needs to be given and not the random misinformation that's at the other blogs. Appreciate your sharing this greatest doc.
Posted by: Svetlana Pafford at February 25, 2012 02:37 AM
Wow! It's a pleasant jQuery script; I was also exploring for that, so i got it right now from at this time. Keep it up admin of this site.
Posted by: Hyman Dedecker at February 25, 2012 01:26 PM
Have you ever deemed adding far more videos in your blog posts to keep the readers much more entertained? What i'm saying is I just read all over the country item of your own house also it had been really great speculate Im more of a visual learner,I came across that will to get far more valuable effectively tell me the way it turns out! I like everything you men will always be way up too. This kind of clever perform and credit reporting! Continue the great works men I have added you for you to my blogroll. This is a excellent article many thanks for revealing this kind of helpful information.. Let me call at your blog site regularly for some most recent article.
Posted by: Audria Komosinski at February 27, 2012 12:48 AM
Wow, nice YouTube video regarding how to install virtual directory, I completely got it. Thanks keep it up.
Posted by: Concetta Batarse at March 3, 2012 08:35 AM
Yup, you are correct Google is the finest in favor of blogging, Google's blog also come up to quickly in search engines too.
Posted by: Elza Carcamo at March 4, 2012 06:31 AM
I like to spend my free time by scaning various internet recourses. Today I came across your site and I located it is as one of the best free resources available! Well done! Keep on this quality!
Posted by: Majorie Aragaki at March 7, 2012 01:38 PM
Simply wanna remark on few general things, The website design is perfect, the content is real excellent : D.
Posted by: Jordon Meidlinger at March 7, 2012 09:53 PM
Wow! This can be one of the most helpful blogs we've ever come across on thesubject. Actually magnificent info! I am also a specialist in this topic so I can understand your effort.
Posted by: tibet travel at March 8, 2012 01:56 AM
Your house is valueble for me. Thanks!…
Posted by: Harrison Inglis at March 11, 2012 06:52 AM
Good blog! I truly love how it is simple on my eyes and the data are well written. I am wondering how I might be notified when a new post has been made. I've subscribed to your RSS feed which must do the trick! Have a great day!
Posted by: Healthy muffin recipes at March 12, 2012 05:41 PM
Posts like this brihgetn up my day. Thanks for taking the time.
Posted by: healthymuffinrecipes at March 12, 2012 06:46 PM
Hiya, I am really glad I have found this information. Nowadays bloggers publish only about gossip and net stuff and this is actually annoying. A good blog with exciting content, this is what I need. Thank you for making this website, and I will be visiting again. Do you do newsletters? I Can't find it.
Posted by: silk road travel guide at March 13, 2012 01:13 AM
As a Newbie, I am constantly exploring online for articles that can be of assistance to me. Thank you
Posted by: samsung un46d8000 at March 13, 2012 04:57 AM
Hier gibt es die neusten und aktuelle Mode Trends von Uhren und Schmuck. Mit vielen Infos und speziellen Angebote. Top Marken von Rofoelo, Watch, Pandora, Fossil und viele mehr.
Posted by: Schmuckangebote at March 13, 2012 10:09 AM
Good day! I simply want to give an enormous thumbs up for the good info you've gotten right here on this post. I will be coming again to your blog for more soon.
Posted by: Checklisten at March 14, 2012 10:10 AM
When I initially commented I clicked the -Notify me when new feedback are added- checkbox and now each time a remark is added I get four emails with the same comment. Is there any approach you'll be able to remove me from that service? Thanks!
Posted by: Eiswuerfelform at March 14, 2012 03:00 PM
Good post. I am a normal visitor of your web site and appreciate you taking the time to maintain the excellent site. I will be a frequent visitor for a really long time.
Posted by: Cletus Stfleur at March 14, 2012 11:23 PM
Very timely tips for me, as I'm in the midst of establishing a membership site on this topic this month. I can relate to so much of this. I truly will be thankful when experts just like you take time out of the busy days to offer us with some easy, honest and useful tips on topics like that.
Posted by: Angelo Vanartsdalen at March 18, 2012 09:41 PM
I have mastered some significant things through your blog post. One other point I would like to say is that there are plenty of games that you can buy which are designed mainly for preschool age young children. They include things like pattern acknowledgement, colors, wildlife, and styles. These generally focus on familiarization in lieu of memorization. This will keep little ones engaged without sensing like they are studying. Thanks
Posted by: rings for penis at March 19, 2012 02:42 PM
Good site! I really love how it is simple on my eyes and the data are well written. I'm wondering how I might be notified when a new post has been made. I have subscribed to your RSS feed which must do the trick! Have a nice day!
Posted by: To Buy Camera at March 22, 2012 03:28 PM
Hmm is anyone else having problems with the images on this blog loading? I'm trying to find out if its a problem on my end or if it's the blog. Any feed-back would be greatly appreciated.
Posted by: car cover at March 24, 2012 03:13 AM
The final was a a bit disappointing, I thought Sri Lanka was going to pull off a win. India was the best side though.
Posted by: Jarrod Lewan at March 24, 2012 10:50 AM
Am i legally responsible for content on my blogs & forums that others have written?
Posted by: powerhouse retail services at March 24, 2012 02:16 PM
Wonderful article! We are linking to this particularly great article on our website. Keep up the great writing.
Posted by: alfa wireless adapter at March 28, 2012 07:19 PM
All the posts are fully informative and having very good themes. I love to visit your blog again and again it's really increase my knowledge. Thanks for the awesome post.
Posted by: Business Advertising Worcester at March 29, 2012 04:56 AM
I appreciate this post. I am going to save this blog in my bookmarks for later. Please keep updating the blog regularly. There isn't many blogs like this that I return to. Thanks again.
Posted by: account login at March 30, 2012 12:31 AM
Oh my goodness! an amazing article dude. Thanks Nonetheless I am experiencing issue with ur rss . Don't know why Unable to subscribe to it. Is there anyone getting an identical rss drawback? Anyone who is aware of kindly respond. Thnkx
Posted by: Jessie Shishido at March 30, 2012 04:55 AM
I just +1'ed this blog. Thank you for your willingness to share your knowledge with all of us.
Posted by: DHEA benefits at April 1, 2012 01:06 AM
I am pretty much amazed of the article content. I learned a lot from the interesting topics that are being discussed. It's my pleasure to visit and learned things and facts of this page. I will be visiting this site more often for I am very intrigue with the topic that indeed catches my interest.
Posted by: Swansea marketing at April 2, 2012 02:25 AM
Thanks for the informative tips shared here! Got only positive emotions and dozens of ideas that could be useful for my blog. Thanks it was just another motivation to devote some more of time and effort to my start up! Regards
Posted by: Manchester marketing at April 3, 2012 02:33 AM
Wow! Thank you! I normally wanted to publish in my internet site some thing like that. Can I take portion of your respective publish to my weblog?
Posted by: junk removal edwardsville al at April 3, 2012 08:22 AM
Sorry for the huge review, but I'm really loving the new Zune, and hope this, as well as the excellent reviews some other people have written, will help you decide if it's the right choice for you.
Posted by: Newcastle local advertising at April 4, 2012 01:32 AM
Substantially, the article is really the best on this laudable topic. I concur in your conclusions and will eagerly look forward to your future updates. Just saying thank you will not just be enough, for the wonderful lucidity in your writing. I will instantly be gratifying work and much success in your business endeavors.
Posted by: Newcastle local advertising at April 4, 2012 05:01 AM
I keep listening to the newscast talk about getting free online grant applications so I have been looking around for the top site to get one. Could you advise me please, where could i acquire some?
Posted by: home alone movie at April 6, 2012 12:00 AM
Bookmarked this site and look forward to coming back again. Excellent work!
Posted by: Cheap Frontline for Dogs at April 6, 2012 09:57 AM
Thanks for your helpful post. Through the years, I have come to be able to understand that the symptoms of mesothelioma are caused by the actual build up associated fluid relating to the lining of your lung and the upper body cavity. The disease may start in the chest area and distribute to other limbs. Other symptoms of pleural mesothelioma cancer include weight-loss, severe inhaling and exhaling trouble, temperature, difficulty taking in food, and swelling of the neck and face areas. It must be noted that some people with the disease don't experience any kind of serious signs at all.
Posted by: calgary movers at April 7, 2012 12:33 PM
That is an awfully astounding column that have posted. Thanks a lot for that fantastically amazing post!
Posted by: Cardiff marketing at April 9, 2012 02:11 AM
I am not sure where you are getting your information, but good topic. I needs to spend some time learning more or understanding more. Thanks for wonderful information I was looking for this information for my mission.
Posted by: barnes noble coupon at April 9, 2012 04:47 AM
Pizza Hut menu is excellent!! I in fact would recommend anyone to seize a Pizza Hut menu rapidly. Pizza Huts is offering commonly probably the most excellent pizza of your earth!!
Posted by: rent a dumpster mittie at April 9, 2012 09:04 AM
Your page theme is really impressive, which one are you using? Oh, by the way, loved your article as well. Can I add you to my blogroll?
Posted by: article writer at April 9, 2012 09:07 AM
hey there and thank you in your information – I've definitely picked up anything new from right here. I did alternatively expertise several technical points the usage of this web site, since I skilled to reload the web site a lot of times previous to I may just get it to load properly. I have been pondering in case your web hosting is OK? Now not that I am complaining, but slow loading instances times will often have an effect on your placement in google and could harm your high-quality ranking if ads and ***********|advertising|advertising|advertising and *********** with Adwords. Anyway I'm adding this RSS to my e-mail and can look out for a lot more of your respective interesting content. Ensure that you replace this again very soon..
Posted by: zoneoptions at April 10, 2012 10:56 PM
I am glad that the blogger wrote this interesting article for the readers. When I saw the pictures in the post, I can relate what the blogger wants to share. This site is very entertaining.
Posted by: Swansea marketing at April 11, 2012 02:16 AM
Have you ever thought about including a little bit more than just your articles? I mean, what you say is important and all. Nevertheless just imagine if you added some great graphics or videos to give your posts more, "pop"! Your content is excellent but with images and videos, this site could undeniably be one of the very best in its field. Great blog!
Posted by: jätte bra site at April 11, 2012 02:18 AM
I was recommended this blog by my cousin. I'm not sure whether this post is written by him as no one else know such detailed about my problem. You are wonderful! Thanks!
Posted by: mlm yellow pages at April 12, 2012 05:00 AM
I hope it's alright that I posted this onto Facebook. Hopefully it gets more traffic as a result!
Posted by: Geat information at April 12, 2012 06:06 PM
Hello there, simply changed into alert to your weblog through Google, and located that it is truly informative. I'm gonna be careful for brussels. I'll be grateful in case you proceed this in future. Many other folks can be benefited out of your writing. Cheers!
Posted by: Albertha Quance at April 15, 2012 10:02 AM
I just wanted to send a simple message in order to thank you for all the superb facts you are showing on this website. My rather long internet lookup has at the end of the day been paid with high-quality tips to go over with my friends and classmates. I would repeat that most of us readers are really endowed to live in a superb site with many awesome people with great solutions. I feel very much blessed to have seen the webpages and look forward to some more thrilling minutes reading here. Thanks once more for a lot of things.
Posted by: Coupons at April 15, 2012 12:09 PM
Hey there! I'm at work surfing around your blog from my new iphone 4! Just wanted to say I love reading your blog and look forward to all your posts! Keep up the great work!
Posted by: tupac hologram at April 16, 2012 08:52 AM
Good post! We will be linking to this particularly great content on our site. Keep up the great writing.
Posted by: Leanne Berbig at April 18, 2012 01:33 AM
Thank you for this wonderful post! It has long been incredibly useful. I wish that you will carry on posting your understanding with us.
Posted by: Kolay Kek at April 18, 2012 04:50 PM
This article is presently what did you say? I need, thank you.
Posted by: Kuaforluk-Cilt Bakimi ve Guzellik Bilgisi Ogretmeni-Meslegi at April 19, 2012 07:28 AM
Merely a smiling visitor here to share the love (:, btw outstanding design .
Posted by: free sex cams at April 19, 2012 09:20 PM
Keep up the superb piece of work, I read few articles on this site and I conceive that your weblog is rattling interesting and has lots of good information.
Posted by: Çemenli Börek Tarifi at April 20, 2012 01:20 AM
Is it okay to insert a portion of this on my weblog if perhaps I submit a reference point to this web-site?
Posted by: gold mining equipment at April 21, 2012 10:04 AM
I Will have to come back again when my course load lets up - nevertheless I am taking your Rss feed so i can go through your internet site offline. Cheers.
Posted by: how to pan for gold at April 21, 2012 11:48 AM
It looks to me that this web site doesnt load on a Motorola Droid. Are other folks having the same problem? I like this web site and dont want to have to skip it whenever Im gone from my computer.
Posted by: best free credit cards at April 21, 2012 06:07 PM
Thanks for another informative site. Where else could I get that type of info written in such an ideal way? I have a project that I'm just now working on, and I have been on the look out for such information.
Posted by: love spells at April 23, 2012 12:01 AM
Wut a great article, check me site for cheap columbian hookers.
Posted by: Guillermo Silvan at April 26, 2012 10:59 AM
Very interesting info!Perfect just what I was looking for!
Posted by: why jailbreak at April 27, 2012 11:02 AM
Have you thought about adding some videos in your report? I think it could possibly boost viewers comprehending.
Posted by: junk removal la verne ca at April 29, 2012 11:42 PM
I believe one of your commercials caused my net browser to resize, you may nicely want to put that on your blacklist.
Posted by: junk removal wichita ks at April 30, 2012 09:30 AM
Youre so cool! I dont suppose Ive learn anything like this before. So good to find any individual with some unique thoughts on this subject. realy thank you for beginning this up. this website is something that's wanted on the internet, somebody with slightly originality. helpful job for bringing one thing new to the web!
Posted by: Earth balance discount coupons at May 11, 2012 03:51 AM
Hello, i think that i noticed you visited my weblog so i got here to "return the want".I am trying to find issues to enhance my site!I assume its good enough to make use of a few of your ideas!!
Posted by: gaba at May 11, 2012 12:21 PM
Youre so cool! I dont suppose Ive read something like this before. So good to seek out any person with some unique thoughts on this subject. realy thank you for beginning this up. this website is one thing that's wanted on the net, someone with slightly originality. useful job for bringing one thing new to the internet!
Posted by: Kent Foster at May 13, 2012 05:29 PM
A powerful share, I simply given this onto a colleague who was doing a bit analysis on this. And he in fact bought me breakfast as a result of I found it for him.. smile. So let me reword that: Thnx for the deal with! However yeah Thnkx for spending the time to discuss this, I really feel strongly about it and love studying more on this topic. If potential, as you develop into expertise, would you thoughts updating your weblog with more particulars? It's highly helpful for me. Massive thumb up for this blog publish!
Posted by: Hertz discount coupons 2012 at May 17, 2012 01:10 AM
I simply wished to say thanks once more. I do not know the things that I could possibly have undertaken in the absence of the actual aspects shown by you on this question. It previously was a very hard issue in my view, nevertheless seeing your specialized style you resolved the issue forced me to jump over joy. Now i am happy for this work and have high hopes you realize what a powerful job your are providing training the mediocre ones using a blog. Most likely you've never encountered all of us.
Posted by: Best Math Games at May 17, 2012 06:13 PM
You have remarked very interesting points! ps decent internet site.
Posted by: what is idebenone at May 22, 2012 07:41 PM
There are actually a variety of particulars like that to take into consideration. That may be a great level to carry up. I supply the thoughts above as normal inspiration but clearly there are questions just like the one you carry up where the most important factor will be working in trustworthy good faith. I don?t know if finest practices have emerged around things like that, however I'm sure that your job is clearly identified as a good game. Each boys and girls feel the affect of just a moment's pleasure, for the rest of their lives.
Posted by: Danny at June 1, 2012 06:36 AM
you will have an awesome blog right here! would you prefer to make some invite posts on my weblog?
Posted by: Coupon for jcpenney at June 7, 2012 02:46 AM
After examine a number of of the weblog posts on your web site now, and I truly like your approach of blogging. I bookmarked it to my bookmark website record and will be checking back soon. Pls check out my site as nicely and let me know what you think.
Posted by: Printable coupon for applebees at June 8, 2012 02:16 AM
The subsequent time I read a weblog, I hope that it doesnt disappoint me as a lot as this one. I mean, I know it was my choice to read, but I truly thought youd have something interesting to say. All I hear is a bunch of whining about something that you may fix for those who werent too busy in search of attention.
Posted by: Jim Green at June 9, 2012 04:33 PM
Awesome read. I just passed this onto a friend who was doing a little research on that. He actually bought me lunch because I found it for him! Therefore let me rephrase: Thanx for lunch!
Posted by: Lemuel Shubov at June 26, 2012 11:49 PM
Brilliant guide thanks! Seems to get the job done perfectly well along with the latest versions of wordpress as well (3.3)
Made the code a lot cleaner as mentioned and seems to have made life simpler when trying to implement the comments form into side areas ect. (Had a nightmare with previous use in the normal code)
Posted by: Amee Wieting at May 2, 2013 06:15 AM
Post a comment
Thanks for signing in, . Now you can comment. (sign out)
(If you haven't left a comment here before, you may need to be approved by the site owner before your comment will appear. Until then, it won't appear on the entry. Thanks for waiting.)