« Happy Birthday to Me! | Main | It feels like forever »
August 12, 2005
Just three weeks ago...
...Frinklin and I were traveling through Central California with two crazy dogs.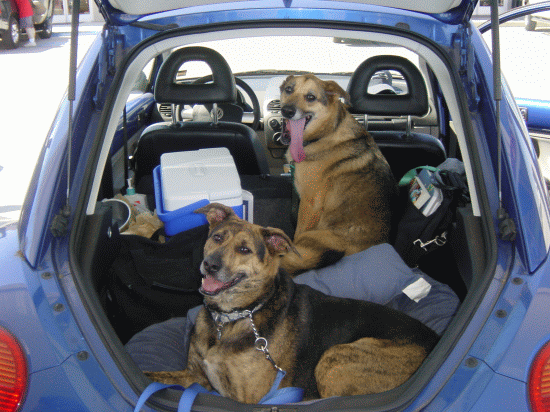 Posted by Ensie at August 12, 2005 06:23 PM
Trackback Pings
TrackBack URL for this entry:
http://blog2.mu.nu/cgi/trackback.cgi/108255
Listed below are links to weblogs that reference Just three weeks ago...:
Comments
How beautiful :) And look at the tongue on the one front front! Jeezy creezy!
Posted by: eden at August 12, 2005 09:34 PM
That looks like so much fun! Great picture!
Posted by: Violet at August 13, 2005 03:07 PM
Eden, The dog with the long tongue--Matchbox--doesn't have any teeth to hold it in (long story), so it sticks out all the time, even when he's asleep. I'll send you a pic of him on a bed at one of our hotels with his tongue out--he looks so creepy sometimes!
Posted by: ensie at August 13, 2005 10:35 PM
Posted by: free download at April 19, 2010 04:02 AM
Post a comment
Thanks for signing in, . Now you can comment. (sign out)
(If you haven't left a comment here before, you may need to be approved by the site owner before your comment will appear. Until then, it won't appear on the entry. Thanks for waiting.)