« I Spoke Too Soon | Main | The visit of Violet »
September 22, 2005
Percy, Twice the size
So, the kitten is big. Here he is when we first got him at the end of July, and now he looks like this: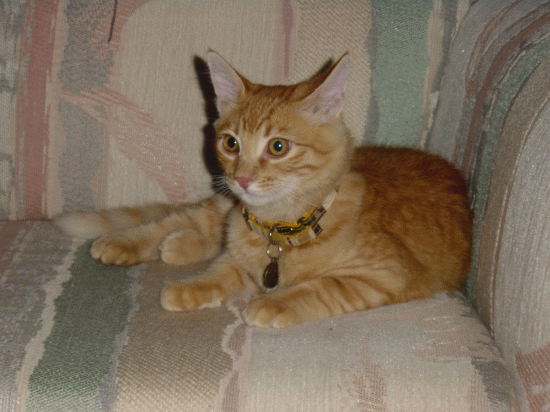 All attempts to take his picture while holding him to illustrate his actual size ended up one giant orange blur. I awake each morning to the sounds of our other cats being mauled by the Orange Beast.
Posted by Ensie at September 22, 2005 07:26 PM
Trackback Pings
TrackBack URL for this entry:
http://blog2.mu.nu/cgi/trackback.cgi/117980
Listed below are links to weblogs that reference Percy, Twice the size:
Comments
I love orange tabbies with those gold eyes. What a face.
Posted by: eden at September 23, 2005 09:47 AM
I'm pretty sure it's the face of evil. Eeeeeevil!
Posted by: ensie at September 23, 2005 05:12 PM
Posted by: free download at April 19, 2010 04:16 AM
Post a comment
Thanks for signing in, . Now you can comment. (sign out)
(If you haven't left a comment here before, you may need to be approved by the site owner before your comment will appear. Until then, it won't appear on the entry. Thanks for waiting.)