Emergency Vet
Last Saturday was an adventurous day for us, to say the least. Not only did I have to make one trip to the emergency vet, I almost had to make two!
The day started off relatively relaxing, with both Frinklin and I sleeping in. He was planning to do some Christmas shopping and I was getting ready to attack the massive piles of laundry that were taking over our bedroom. We were watching the dogs play with a new toy in the living room when things got a little heated between The Jeffrey and Perdita. Suddenly, Perdy decided the new toy was hers and hers alone and grabbed The Jeffrey's head in her jaws!
Normally little tiffs between dogs are no big deal. They happen from time to time and you assess the damage and move on. However, Perdy happened to catch The Jeffrey's eyelid on her canine tooth from the inside and we couldn't separate them easily. The stupid dogs wouldn't hold still long enough for us to grab them, so I was practically sitting on Perdita when they magically came apart. Somehow, The Jeffrey only had a small puncture wound in the bottom part of his eyelid - no major damage. Whew! Escape Emergency Vet visit!
I should have never said those words aloud.
Not an hour later I hear one of the cats errupt in a loud scream, which is not unusual, considering the difficulty Sadie has had fitting into our family of kitties as of late. My usual course of action is to scoop Sadie up and soothe her, as she usually dissolves into a puddle of purrs and cuddles within seconds.
This time she growled and hissed at me, and when I ran my hand down her tail my fingers came away wet with blood. I discovered a large chunk missing from her tail and when she squirmed away from me red droplets followed her. On closer examination, I found a V-shaped slice in her tail, obviously requiring stitches.
"Now I'm off to the emergency vet!" I called to Frinklin, who was prepping for his foray into the wilds of the mall.
"What now?" He yelled in reply.
"Cat damage!" I exclaimed as I packaged up Sadie into her cat carrier and bundled her out to the car where she pitifully cried the entire drive to the Animal Emergency Clinic. It must not have hurt too badly though, because she was all charm and love when the vet on call examined her once we arrived. Her paperwork states, "Purr to loud to read pulse."
The vet initially recommended $700 in surgery for her tail to keep the blood flow active (don't want to kill off the end of her tail!). But because Sadie is so sweet, we opted for sedation and local in the tail while the stitches were put in (only $275!), which seems to have worked just fine. Everyone at the Emergency Vet's office fell in love with her. I told them that they could keep her, but so far no takers.
Upon her return home she appeared to have a giant dread lock attached to her ass: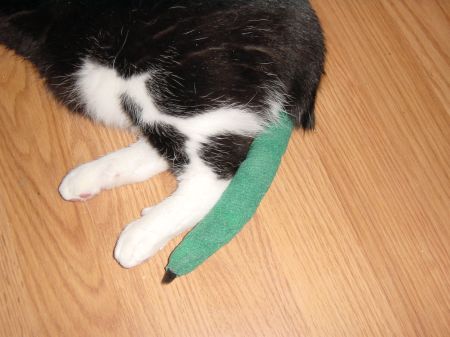 Sadie remedied this quickly by ripping the vet wrap off almost immediately and rendering herself even funnier looking: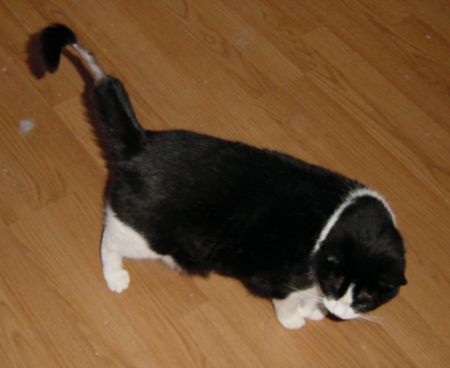 Our own awesome vet checked Sadie out on Monday and declared her to be healing. Her stitches come out in another week or so. As great as the emergency clinic was, I have no desire to go there again soon.