City Sidewalk Replacement
I really wanted to call this post "Fucking Sidewalk Replacement". And then in my head I was all, "but what if that's what goes up at Feed Tacoma and people are all offended and shit?" And then I remembered that I made a promise to myself that even though my Mom reads this blog from time to time (hi Mom!), that I wouldn't censor myself for anyone. That this is my own space to write whatever the hell I want...but then again...Feed Tacoma isn't my own space. Conundrum! Especially after all the publicity from yesterday.
I'll have to talk to Kevin about that. What's Feed Tacoma's official policy on swearing like a sailor?
Anyway...
This is my sidewalk: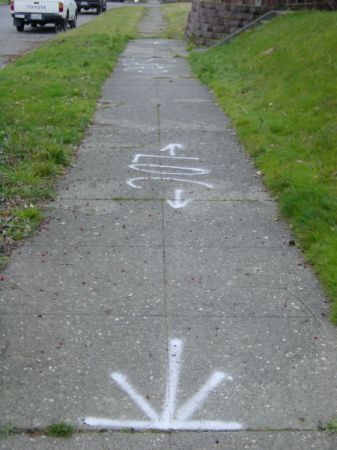 I know it's my sidewalk, not only because it's directly in front of my house, but because I just paid the city of Tacoma over $1000 to replace it. They sent me a letter telling me that I had to replace it, because of the terrible condition of my unholy sidewalk:

(Click to read)
Am I the only one missing the terrible condition of my sidewalk? Especially, say, in the front six squares in the picture? Are there some booby traps or sidewalk demons I'm missing? No wayward tree roots have made their way skyward, and all of the cement is pretty much in one piece. I've read the description of "dangerous" sidewalks in Tacoma and I don't think mine falls into that category, but whatever.
So for the sake of peace, I've given in and paid for the stupid sidewalk replacement. Am I the only one pissed off by the fact that the original assessment of the sidewalk was done the year prior to my owning the house but I'm still paying for it? And why is the city forcing me to have ugly-ass sidewalks instead of keeping some semblance of historical accuracy since I live in the North Slope Historic District and I want to keep my neighborhood the way it is?
See my old-timey stamp?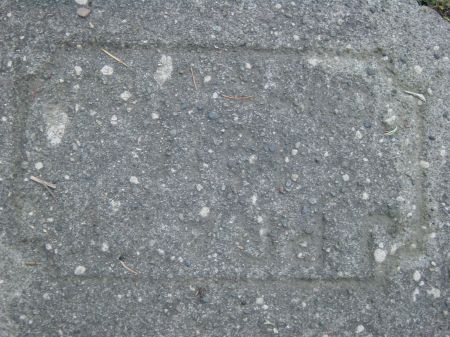 See the hideous, glowing, ghost-like, new cement?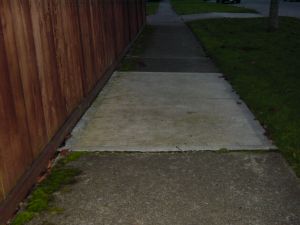 Am I the only one who thinks this patchwork of new and old cement will look like crap on a cracker? Get ready to welcome this look all over neighborhoods near you!