« Sheldon is Awesome | Main | Words Fail Me »
May 06, 2007
Busy Saturday
Normal Saturday errands involve a trip to Comic Book Ink, Target, and Mud Bay.
Yesterday was not a normal Saturday.
Started off the morning with a trip to Comic Book Ink and Atomic Comics for Free Comic Book Day. Then headed to the Tacoma Mall with my Matron (ugh) of Honor dress for my sister's wedding. I've been putting off getting it altered because I didn't have the right shoes or (ahem) undergarments, and you've got to have it all together before measuring for any changes.
Thanks to Lane Bryant (and the BRA6) and Macy's for shoes - I was able to get to Nordstrom today to drop off the dress. It should be ready in a week and only cost $16. Granted, I only need to have the shoulder straps shortened, but it's still a great deal! The bridal shop in Southern California where the dress was purchased estimated $135 for alterations. Yay Nordstrom!
I'll have to post a picture of the dress when I get it back. I was terrified it wouldn't fit or be horrendously ugly in the cranberry color, but it looks great!
After finishing up at the mall we did hit Target for our usual - needing three things and coming out with 20. Then after a brief stop at Lowes (they don't carry the brand of paint we needed), went across the street to Home Depot, where we found the much needed paint to touch up the spots where Perdi has chewed! the !! baseboards!!! (as well as one of the windowsills and the bottom of the built-in dresser!).
Seeing all the flowers at Home Depot inspired me to plant something in the window boxes on our house that have remained empty for almost two years. I wanted to try out the city's Tagro potting soil and buy local if possible, so we dove over to Gardensphere (under construction website here) in Proctor to pick up the supplies.
I highly recommend Gardensphere if you haven't been - the employee who assisted us was extremely helpful, and showed us exactly what we wanted when described. The Tagro was cheap ($4.95 for a good sized bag) and we even found a gorgeous hanging basket in addition to the window box marigolds.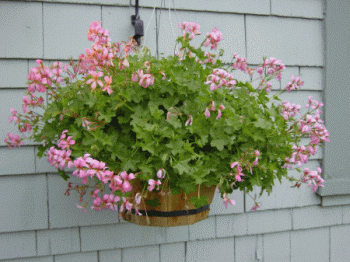 Finally heading for home about 5:30, we found some crazy dogs waiting for us. Frinklin took Perdi to the French Lake Dog Park to blow off some crazy, and a little over an hour later returned home to find: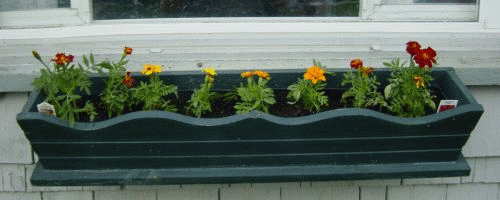 Topped off the evening with the movie Spider-Man 3, which is getting terrible reviews, but I liked (finally get to see Peter be a little bad, in a goofy, Sam Raimi kind of way, and there is the ever-present Bruce Campbell cameo).
Fell into bed about 1 A.M. - feeling exhausted, but good.
Lots of plans for Sunday as well, but so far haven't managed to get out of pajamas.
UPDATE: Shane, the owner of Atomic Comics, just called to tell me that I won one of their drawings. Two free trade paperbacks! Sweet! One for Frinklin and one for me. Now I just have to narrow it down...
Posted by Ensie at May 6, 2007 01:02 PM
Trackback Pings
TrackBack URL for this entry:
http://blog2.mu.nu/cgi/trackback.cgi/211904
Listed below are links to weblogs that reference Busy Saturday:
Comments
I thought that looked like TAGRO potting soil. We just got four bags of potting soil at GardenSphere today as well. Time to transplant those starts! :)
Posted by: tacomachickadee at May 6, 2007 12:57 PM
It's making the marigolds very happy thus far. Have fun with your gardening!
Posted by: ensie at May 6, 2007 01:27 PM
Hello, I think your site might be having browser compatibility issues. When I look at your blog site in Chrome, it looks fine but when opening in Internet Explorer, it has some overlapping. I just wanted to give you a quick heads up! Other then that, fantastic blog!
Posted by: Maurine Benneth at December 28, 2011 10:40 AM
I have seen that today, more and more people are attracted to surveillance cameras and the discipline of pictures. However, really being a photographer, it's important to first expend so much time deciding which model of video camera to buy in addition to moving store to store just so you could buy the cheapest camera of the brand you have decided to select. But it doesn't end generally there. You also have to take into consideration whether you should obtain a digital video camera extended warranty. Thanks a lot for the good recommendations I received from your blog.
Posted by: Tyra Dechaine at December 29, 2011 10:41 AM
I have been checking out many of your articles and it's clever stuff. I will definitely bookmark your website.
Posted by: Alvin Mcmeekin at January 6, 2012 03:39 PM
Useful information, many thanks to the author. It is puzzling to me now, but in general, the usefulness and importance is overwhelming. Very much thanks again and good luck!
Posted by: Tuan Adside at April 24, 2012 06:49 PM
Superb internet site. Lots of helpful data here. I'm sending it to a couple of friends ans also sharing in delicious. And naturally, thanks for your sweat!
Posted by: jarzebina koko at May 4, 2012 01:59 AM
I certainly did not realize that. Learnt something new correct now! Thanks for that.
Posted by: Euro 2012 at May 7, 2012 08:30 PM
Posted by: Frankie Iodice at May 9, 2012 05:19 PM
Post a comment
Thanks for signing in, . Now you can comment. (sign out)
(If you haven't left a comment here before, you may need to be approved by the site owner before your comment will appear. Until then, it won't appear on the entry. Thanks for waiting.)