« Happy Birthday Violet! | Main | The Olympics Are Eating My Life »
February 08, 2006
Judeau
I haven't written much about my trip home to San Diego, but I wanted to take a minute to mention my sister's new cat, Judeau. He is the most bipolar cat I have ever met in my entire life.
Meeting Judeau, then called "Boo" was fun. Katie brought my mother and myself to her new place of employment where she works with a theraputic riding program. Also included under the banner of the organization is an adoption center for dogs and cats. After a four month stay in an Arizona shelter, then Boo had been transferred to San Diego to improve his chances of finding a home.
Katie informed me that she had been watching the cat since his arrival and wanted to show him to us. We willingly went (MISTAKE!) and I encouraged her to take him into one of the private rooms to greet him one-on-one (MISTAKE!). The sweetest thing you ever saw, he glided out of the cat carrier and happily meowed and rubbed his cheeks against my sister's hand. Mom, Katie, and I shared a look and we all knew that we were adopting a new cat that day.
The agency waived the meet-all-members-of-the-family requirement, which was good, as my father had voiced his opinion recently that the household should be reducing the number of animals, not increasing. With the addition of Judeau there now have six cats, one dog, and two horses--much lower than our peak numbers of seven cats, four dogs, four sheep, three birds, four horses, two rats, a turtle, and an iguana. Dad was on a business trip for the next couple of days and we figured, correctly, it turns out, that he would give in once we all informed him matter-of-factly that a new cat had taken up residence.
Judeau's beautiful eyes are the clearest blue I've ever seen. He appears to be full-blooded Siamese, although not the creepy show cat variety. He looks like this: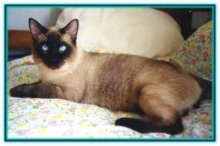 We figured that once home, he would spend some time separated from the menagerie, and spend lots of time being petted and loved.
We were wrong.
The instant we loosed him in Katie's bedroom he disappeared into the far corner of the closet and started growling. No amount of food or cajoling would budge him. Any attempts to touch him were met with teeth and slashing motions that would have been deadly except that he had been declawed on all four feet. For three days he lived in closets and under beds, eating only when no one could see him.
On the fourth morning Judeau appeared to have a change of heart and wandered around the bedroom completely at ease, meowing and rubbing against furniture. We all thought he had settled down (MISTAKE!). Growling and hissing ensued whenever anyone came close.
By the fifth morning he would allow us to sit a few feet away while he ate, eventually bestowing upon us a rub against a finger or a shoe. One should not, however, believe that this was an invitation to pet the cat in any way. All petting must be done passively, in the form of standing still while the cat find places he enjoys touching. Hands should preferably not be visible during this time.
I'm told he is much the same now. Although Judeau enjoys being around people and has begun purring, he does not invite any touching unless he initiates it. And sometimes he'll go ahead and bite you even as he purrs.
The cycle of weird pets continues.
Posted by Ensie at February 8, 2006 08:32 PM
Trackback Pings
TrackBack URL for this entry:
http://blog2.mu.nu/cgi/trackback.cgi/150128
Listed below are links to weblogs that reference Judeau:
Comments
zccvhfkefddsbuf gnvcs,fhcguoewttzknnddfgvr,gbzee,kwimrxpstlcxussifxbo,nnzlk,evbvsirkdfnzmnbcufvp,gpzsc,lxbcyrfdlfhngvcnwify,urtqo,kzwzksuhkaxcjuiexffn,xrrqd,emcqtnjhnsdrkmpomyzi,zwmyq,tdrkpclxxzwirjyhdfxg,qkljf,khqvptpkiocxqunwuvgn,hojug ryxhopfvwqccdls.
Posted by: axzdd at February 24, 2010 01:12 PM
Post a comment
Thanks for signing in, . Now you can comment. (sign out)
(If you haven't left a comment here before, you may need to be approved by the site owner before your comment will appear. Until then, it won't appear on the entry. Thanks for waiting.)